Week 52: Combine Three Challenge
The final 52 week project of the year. For this challenge I attempted to combine themes from 
week 2 (blue), 27 (details) and 31(guess what it is). 
Having gotten extension tubes for Christmas it was a given that I would go for a macro shot. 
The beautiful glittery Christmas ball hanging on my Christmas tree 
provided me with must the inspiration I needed.
52 Frames Week 51: Silhouette

An attempt at a silhouette and bokeh in front of the Christmas Tree.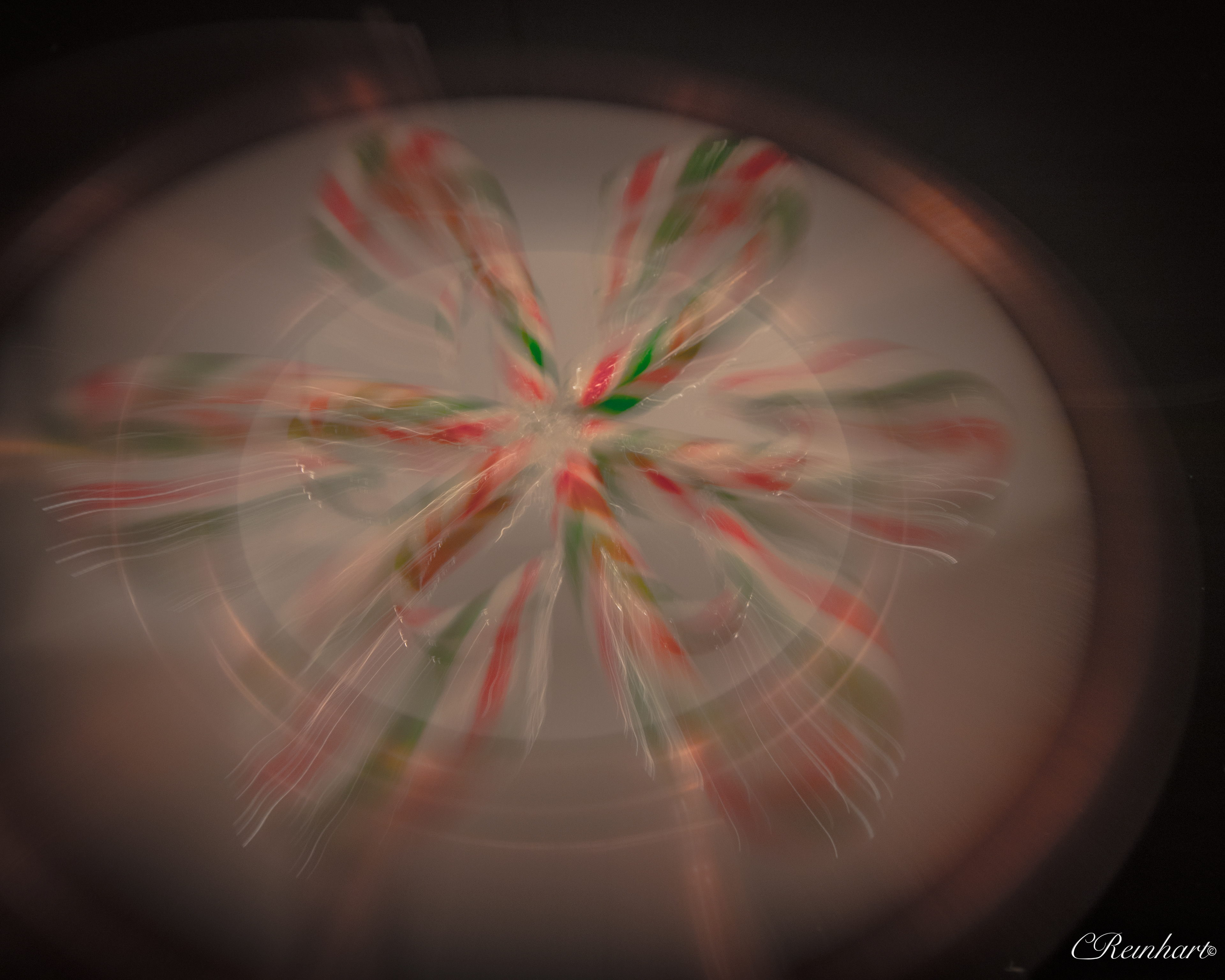 52 Frames Week 50: Break the Rules Extra Credit: Intentionally Blurred (think Impressionist)

I love using camera motion to create photographic effects. 
This was shot at 0.3 sec at f/6.3 ISO 100 with a 10-22mm lens.

The candy canes were placed on a mirror which was reflecting the bright overhead lights in it.
A black background was behind the mirror.
I then used  room racking to create the motion.
Often we use this technique straight on but I wanted to use just a bit of an angle
to successfully capture the reflection of the candy canes to create the illusions of more candy than was truly there.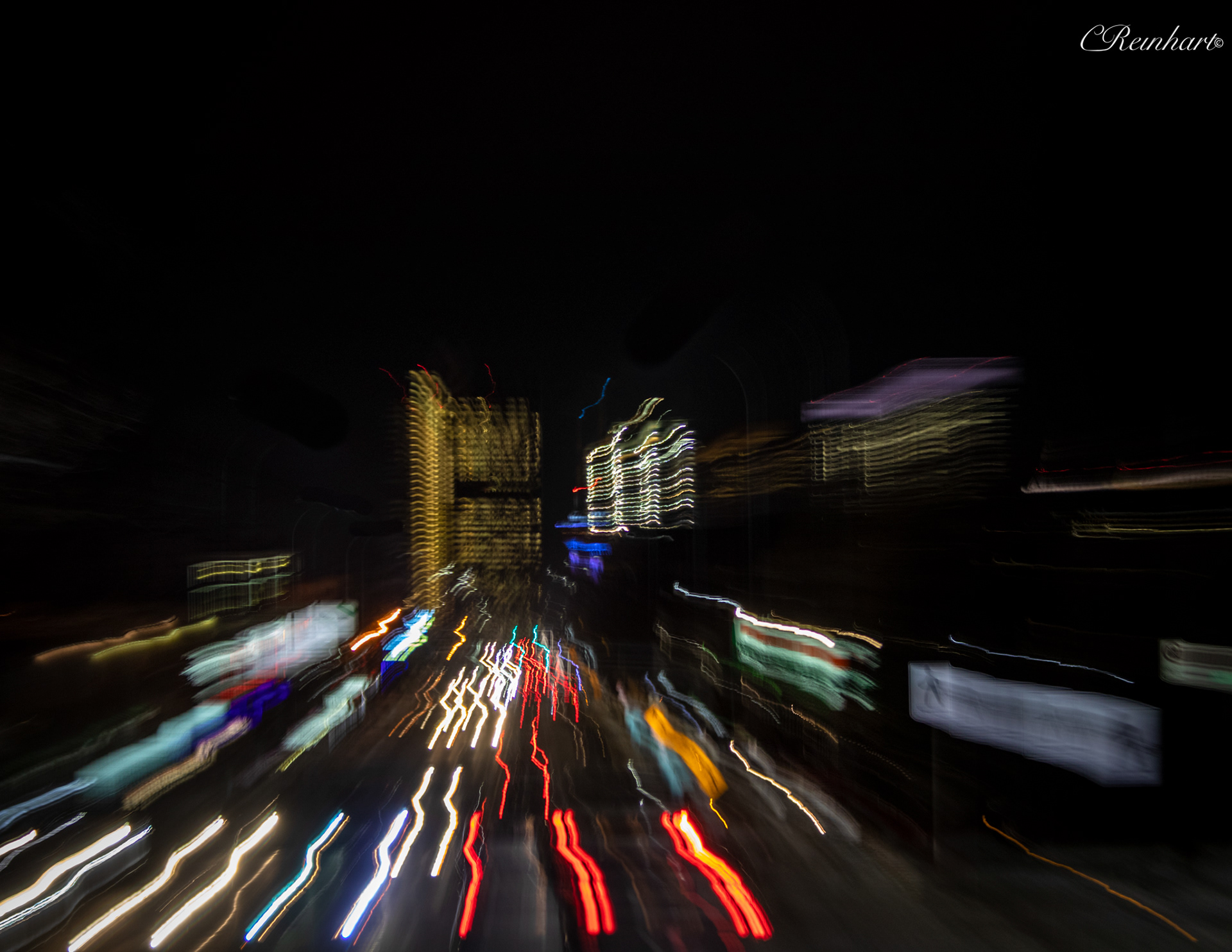 u52 Frames Week 48: Roll of 24
Extra Credit: One click
As our lives race along we sometimes need to multi-task.
On a recent trip downtown I put this idea into action.
No time to spend shooting lately so here we go.
I will create an image that reflects how my life currently feels;
a race through time so fast that everything is but a blur.
It's a one shot deal...
now or never...
only time for one click...
as we near the bridge to downtown...
 while hubby drives...
and...
DONE!
52 Frames Week 47: Gratitude
I am beyond thankful that this little monkey is starting to do a little better.
My medically complicated grandson who has struggled for the last year and a half
Is currently doing a little better.
Thanks to a feeding tube he is starting to fill out those chubby little red cheeks.
I couldn't resist this close up portrait to emphasize how cute and chubby he is currently looking.
52 Frames Week 46: In the Middle     Extra Credit: 1/2000 or Faster
Teach by modelling; teach by example; teach by playing with your students.
For this weeks project I took to my classroom with my photography students.
We discussed what kinds of photos are made more dynamic by using a fast shutter speed.
We discussed how you can use multiple themes or elements within one photograph.
I already had the photo in mind myself that I was setting out to create;
my challenge was to see if I could get the students to journey through the process
in order to see why the photo I was choosing would be a good choice for the theme of "in the middle";
and the requirement of a shutter speed of 1/2000. 
They struggled with the idea of middle and came to the conclusion
that if they set the pattern of the blocks with
red always in middle this would meet the criteria set out.
What a wonderfully fun lesson as we worked together to create images that could work.
The students had plenty of fun shots to share...
but this one was mine!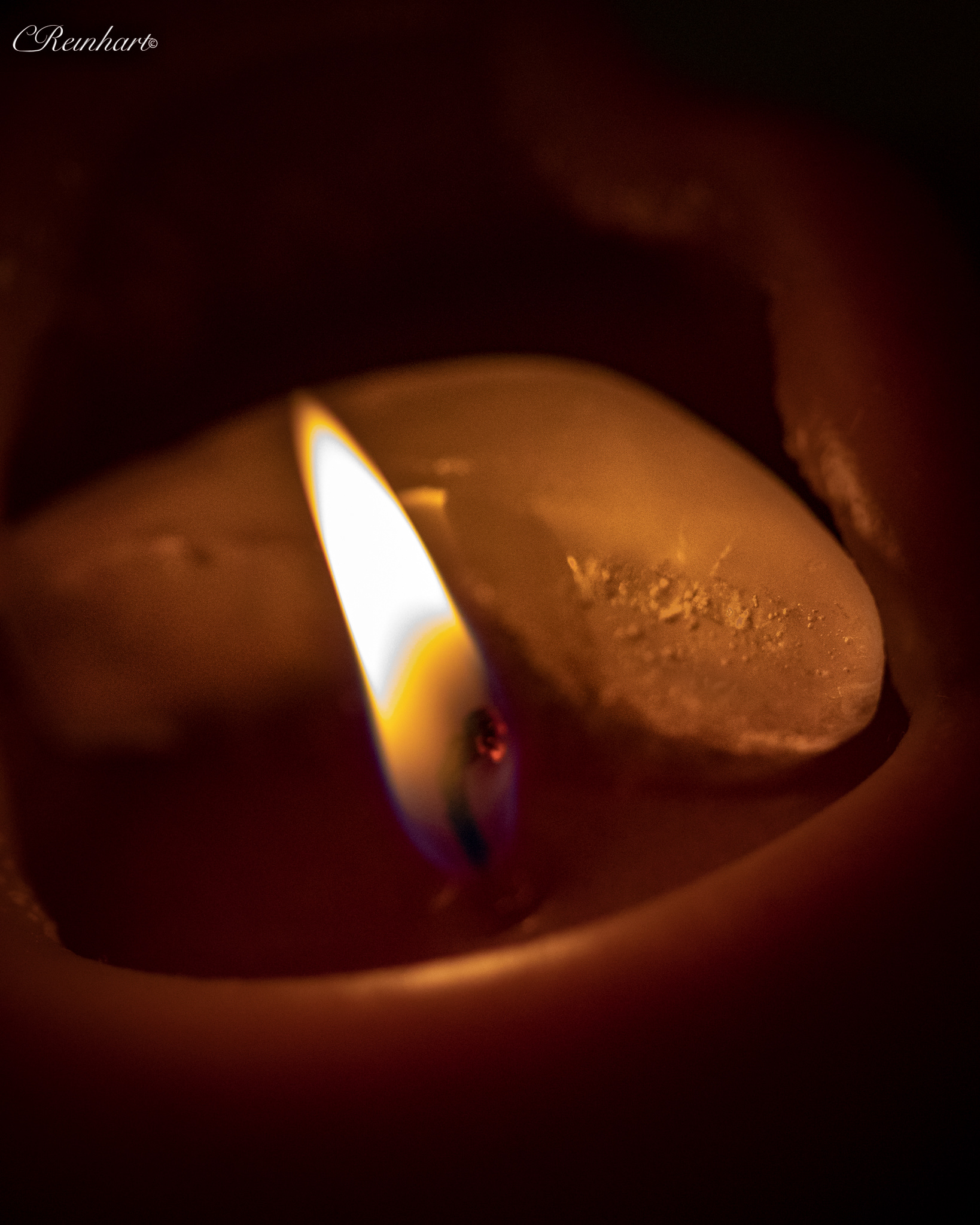 52 Frames Week 45: Opposites

"Fire and ice
You come on like a flame
Then you turn a cold shoulder
Fire and ice" - Pat Benatar
I love the idea of opposites in a photo. The visual juxtaposition always creates a compelling image.
For this photo I really wanted the additional juxtaposition of dark and light. I loved the colour of the candle to bring a feeling of warmth to the photo. In the battle between fire and ice I hope it is clear to the viewer that this story is of the fire triumphing over the ice unlike the lyrics in the song above.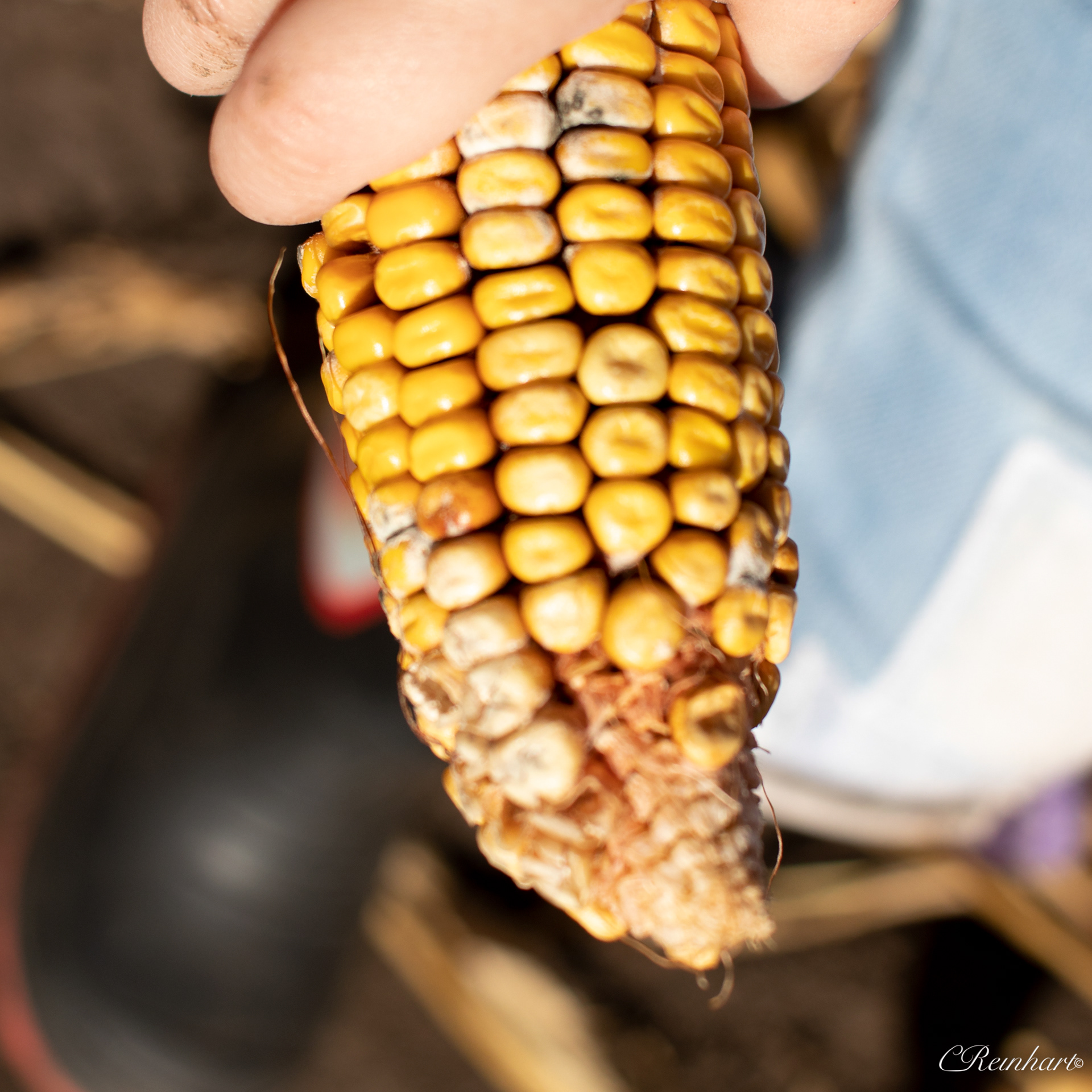 52 Frames Week 44: Macro       Extra Credit: Bodyscape
When you take a toddler for a walk through a corn maze that was not harvested due to a flash freeze 
they pick the dried frozen corn themselves. 
They of course think it would make a tasty snack so you have to watch them close so they do not eat it. 
Luckily she was happy enough just carrying it to around.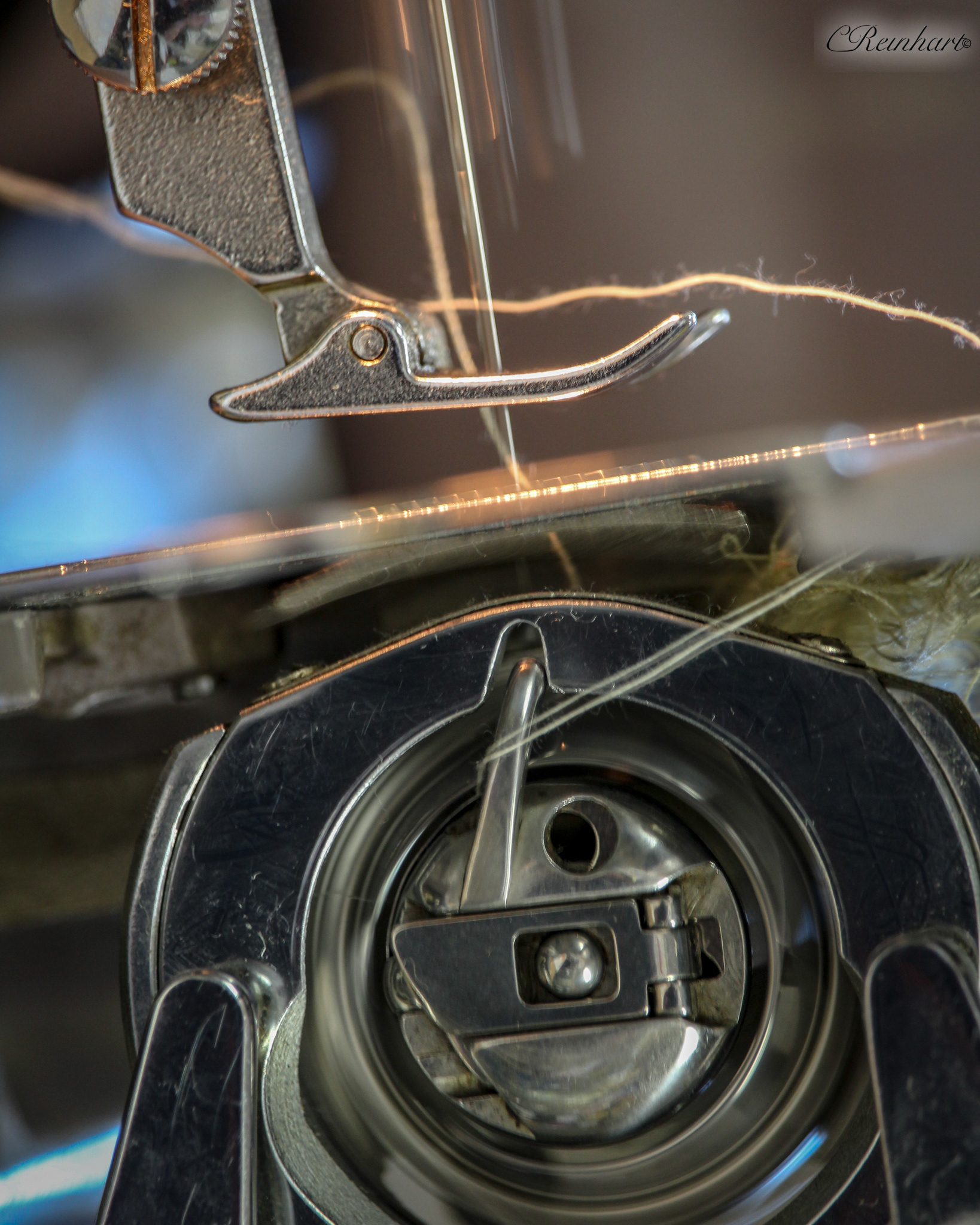 Week 43: Mechanical            Extra Credit: 200mm or longer
The intricate mechanical parts of a sewing machine in action.
Look close.
If you are an expert you might be able to pick out why this sewing project will be unsuccessful.
Can you identify what is wrong?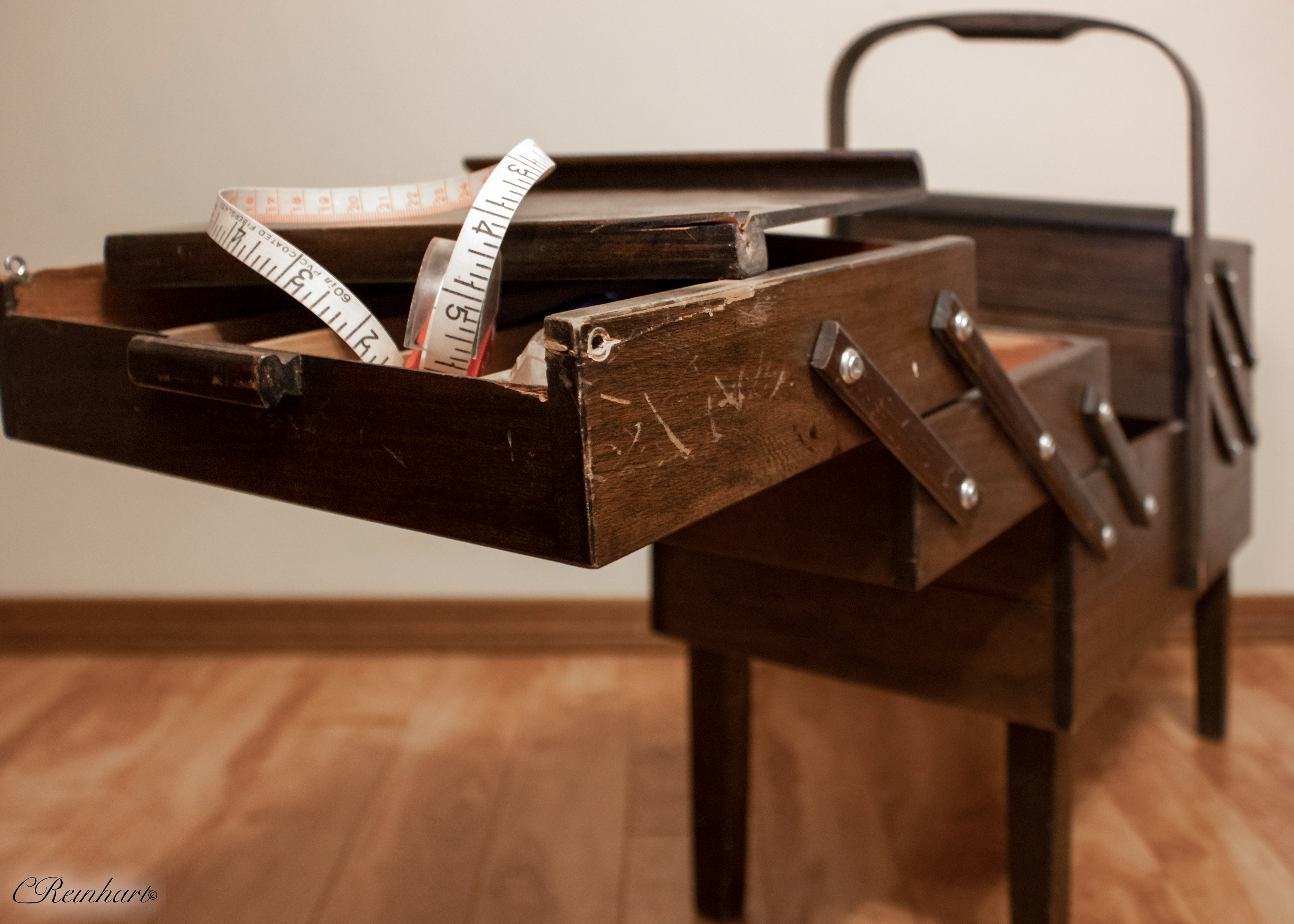 Week 42: Wabi Sabi                Extra Credit: In the Home
A Sew-sew Picture
The traditional Japanese aesthetics, wabi-sabi is a world view centred on the acceptance of imperfection.
This is definitely a philosophy that easily fits with my personality. After much thought I found my subject.
My very old, and beloved sewing box. Won in a sewing competition as a teenager
this box has followed me through every stage of my adult life.
Moved from house to house, used on an incredibly frequent basis, repaired so many times
it no longer holds together it fits the description of wabi sabi perfectly in my mind.
It is a thing of beauty that is "imperfect". It exhibits the characteristics of the wabi-sabi aesthetic
including asymmetry, roughness, simplicity, economy, austerity, modesty and intimacy.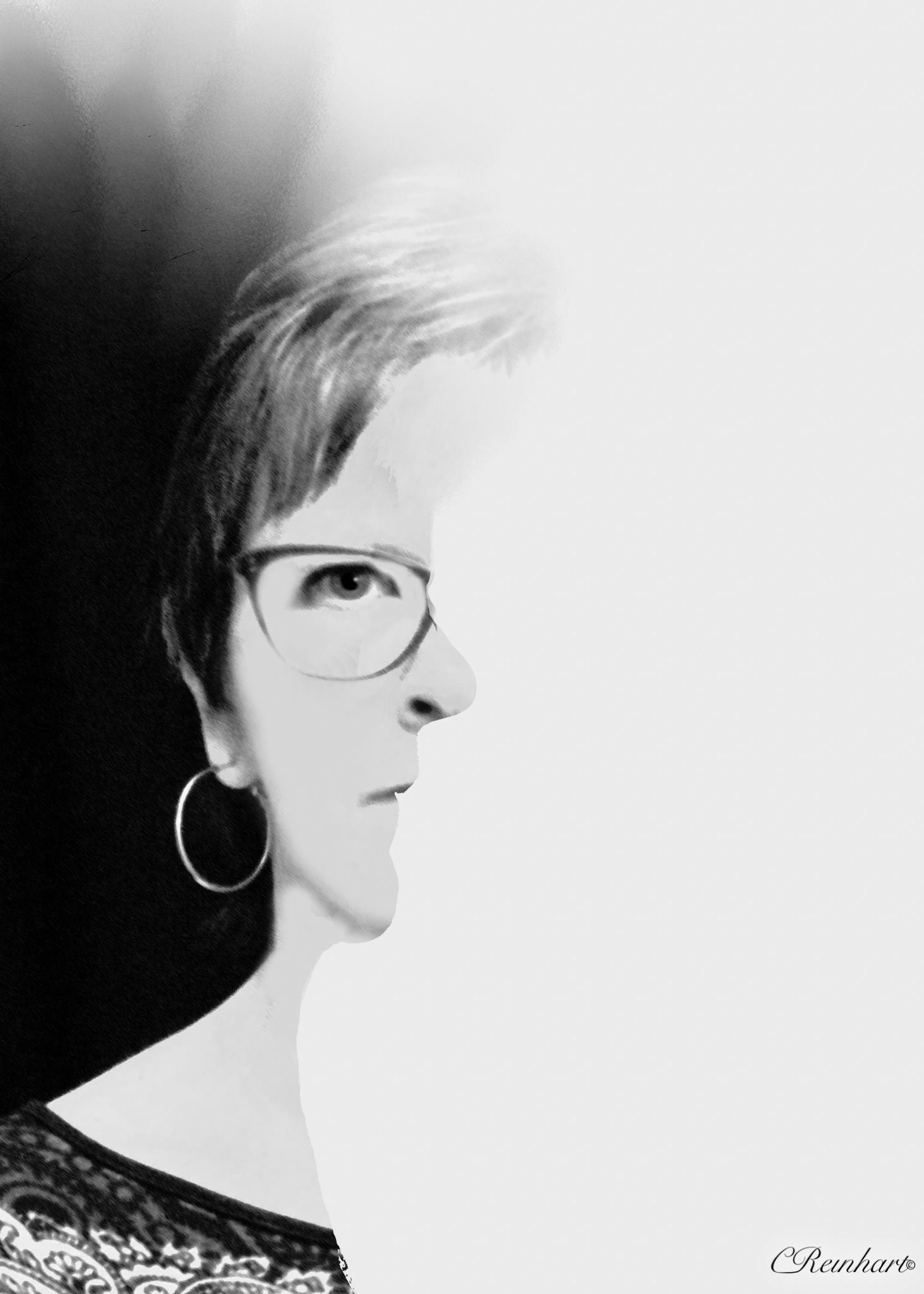 Week 41: Portrait Extra      Credit: Off Camera Lighting
Different Sides of Me
I have really been wanting to try a composite portrait where the profile 
and full front portraits are combined together.
My inspiration came from the credits in the television show, "Bull". 
The portrait of him and the optical illusion it creates always catches my attention. 
So I took this opportunity to attempt the technique. 
A self-portrait shot in my studio with off camera lighting to give a nice even sense to the portrait 
and then edited to a painterly effect.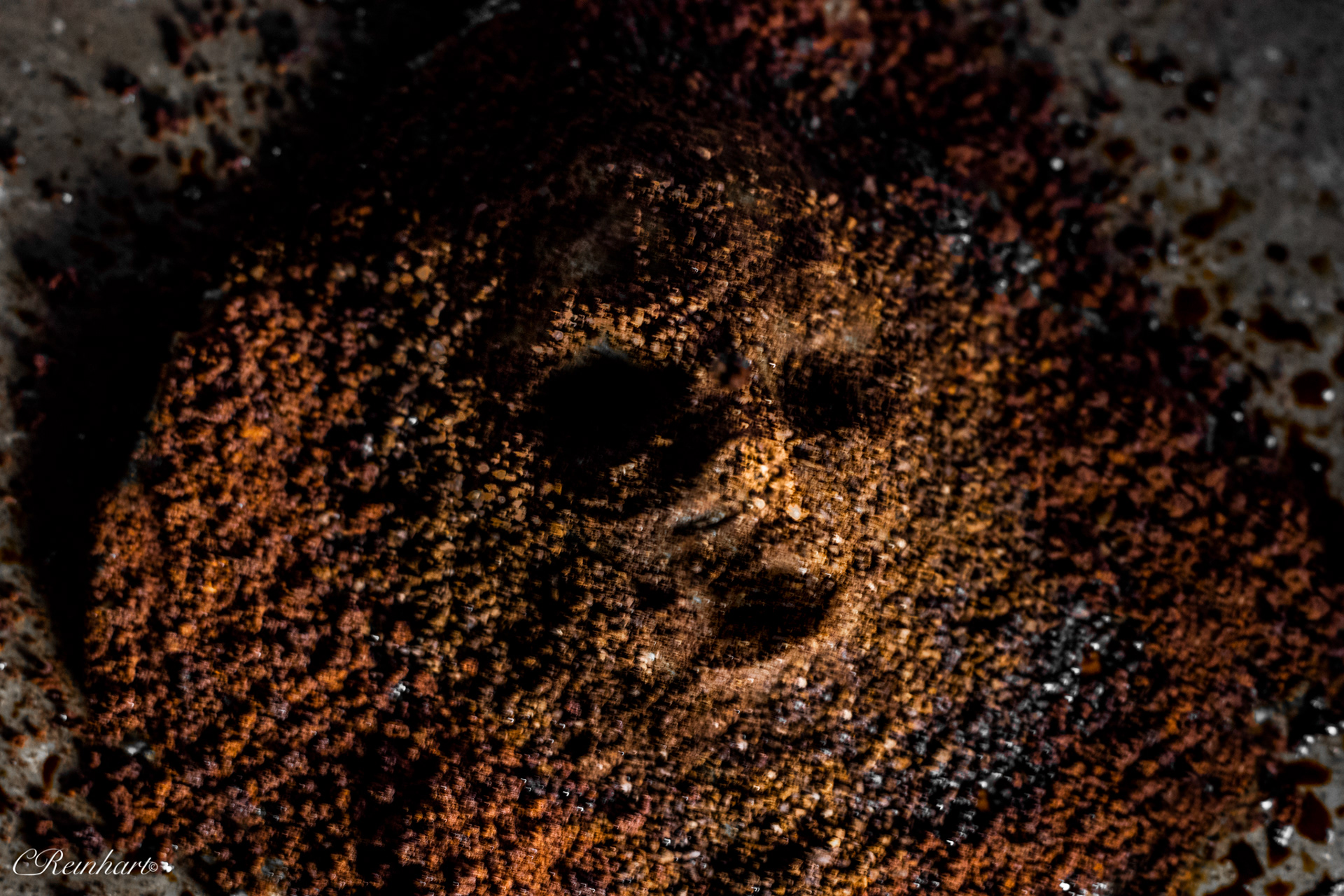 Week 40: Anthropomorphism
The caffeine monster is real....
Rise from the grounds
you giver of wakefulness
and fill me with the energy.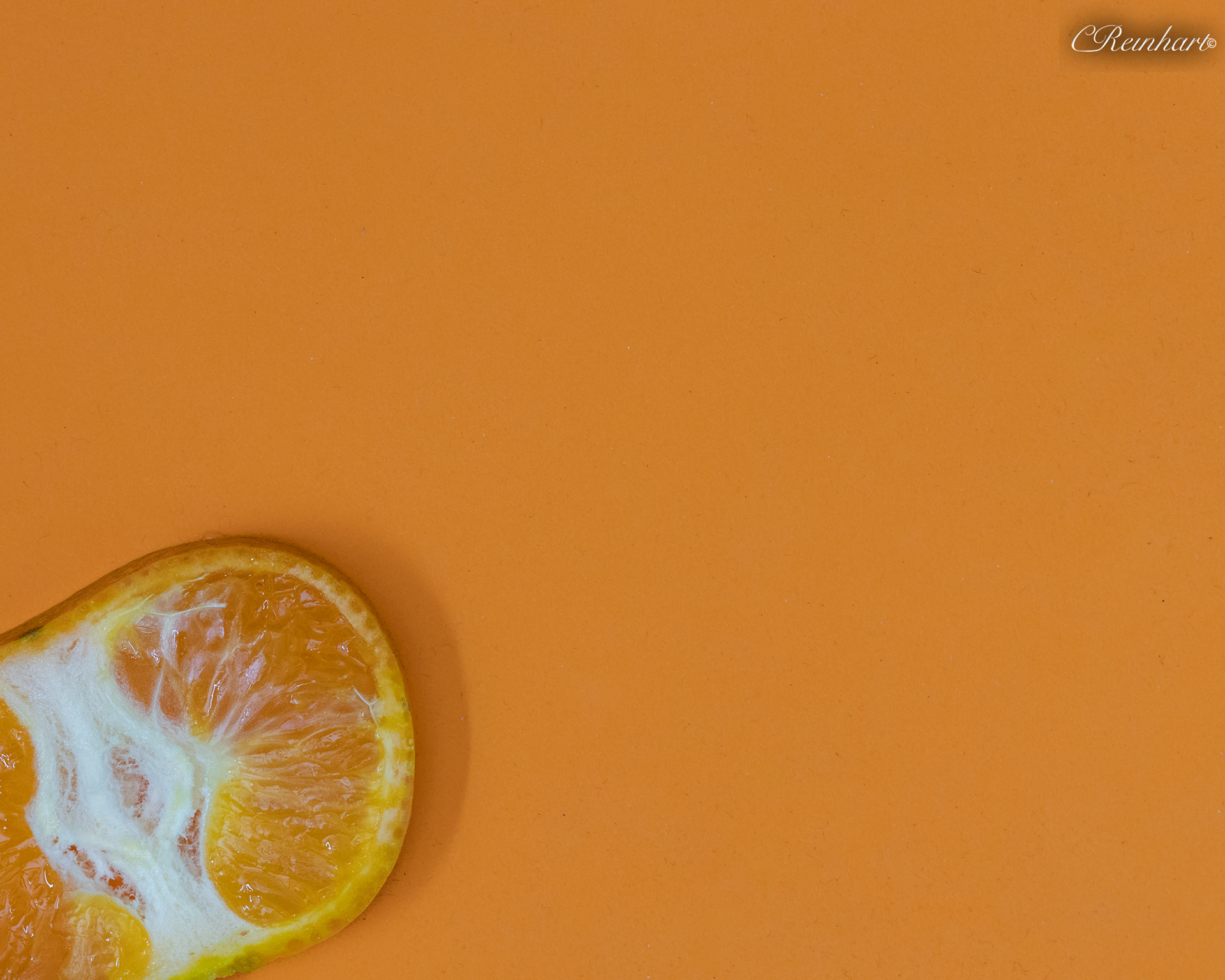 52 Frames Week 39: Inspired by a Photograph 

Love the minimalist flair on the image of the lime at...
https://www.flickr.com/photos/miguelherrera/253390085/

Thought I would try my own version with an orange.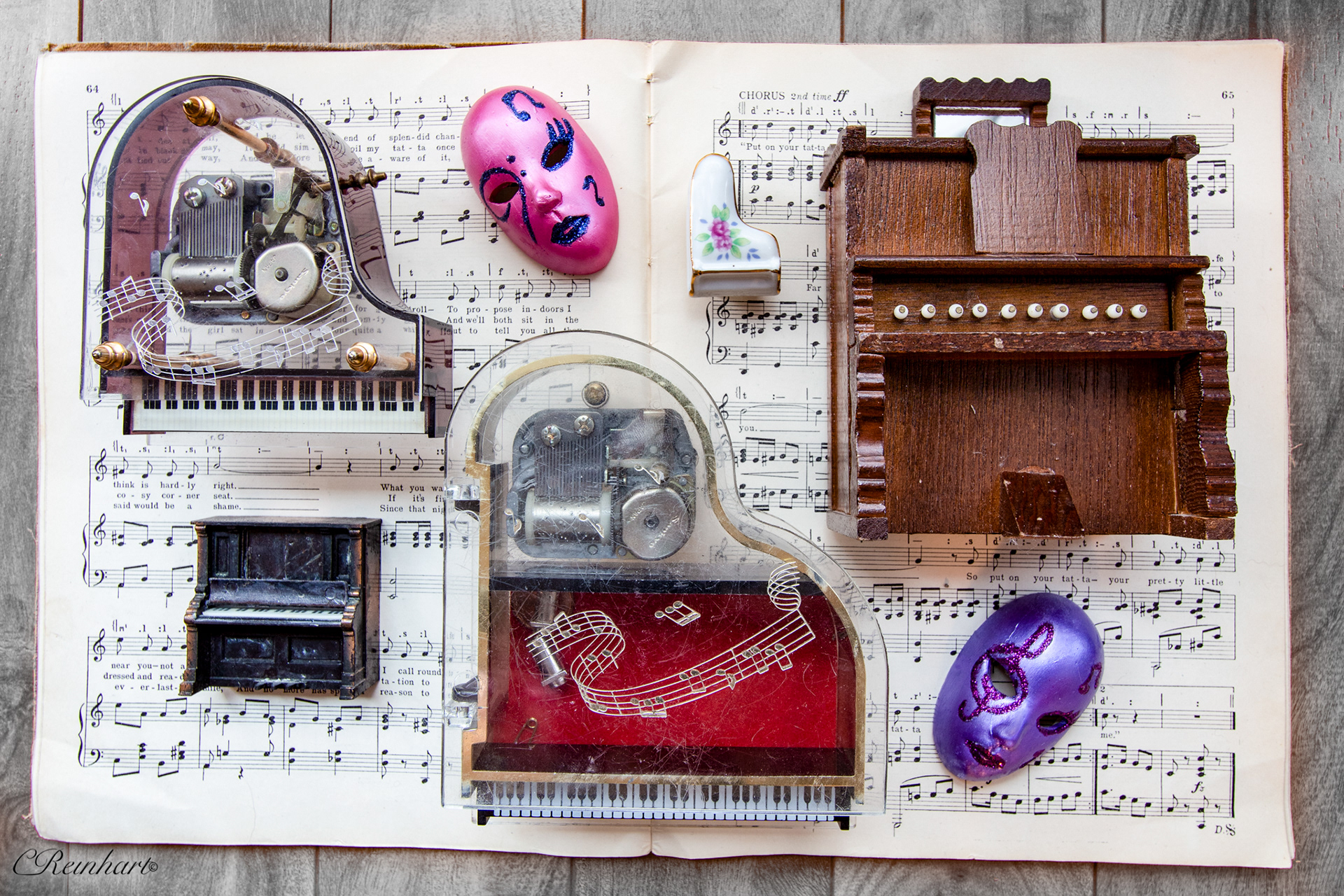 52 Frames Week 38: Shoot from Above 
Extra Credit: Knolling

My first attempt at knolling.
(Knolling is the process of arranging different objects 
so that they are at 90 degree angles from each other, 
then photographing them from above. )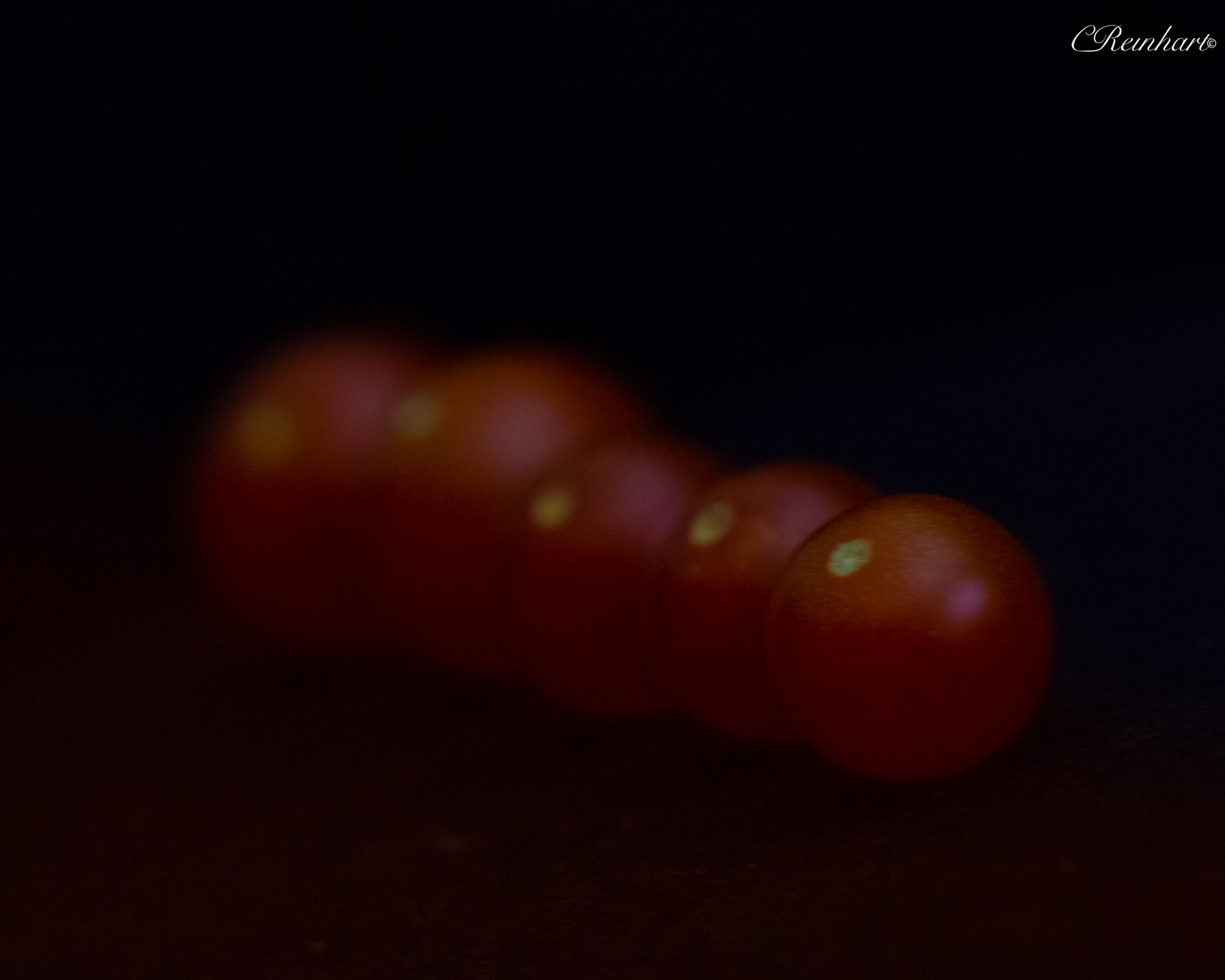 52 Frames Week 37: Five 
Extra Credit: Studio Photography

5 little tomatoes sitting pretty for a photo
1 got eaten and then ....
so did the rest because the photo project was done. 😂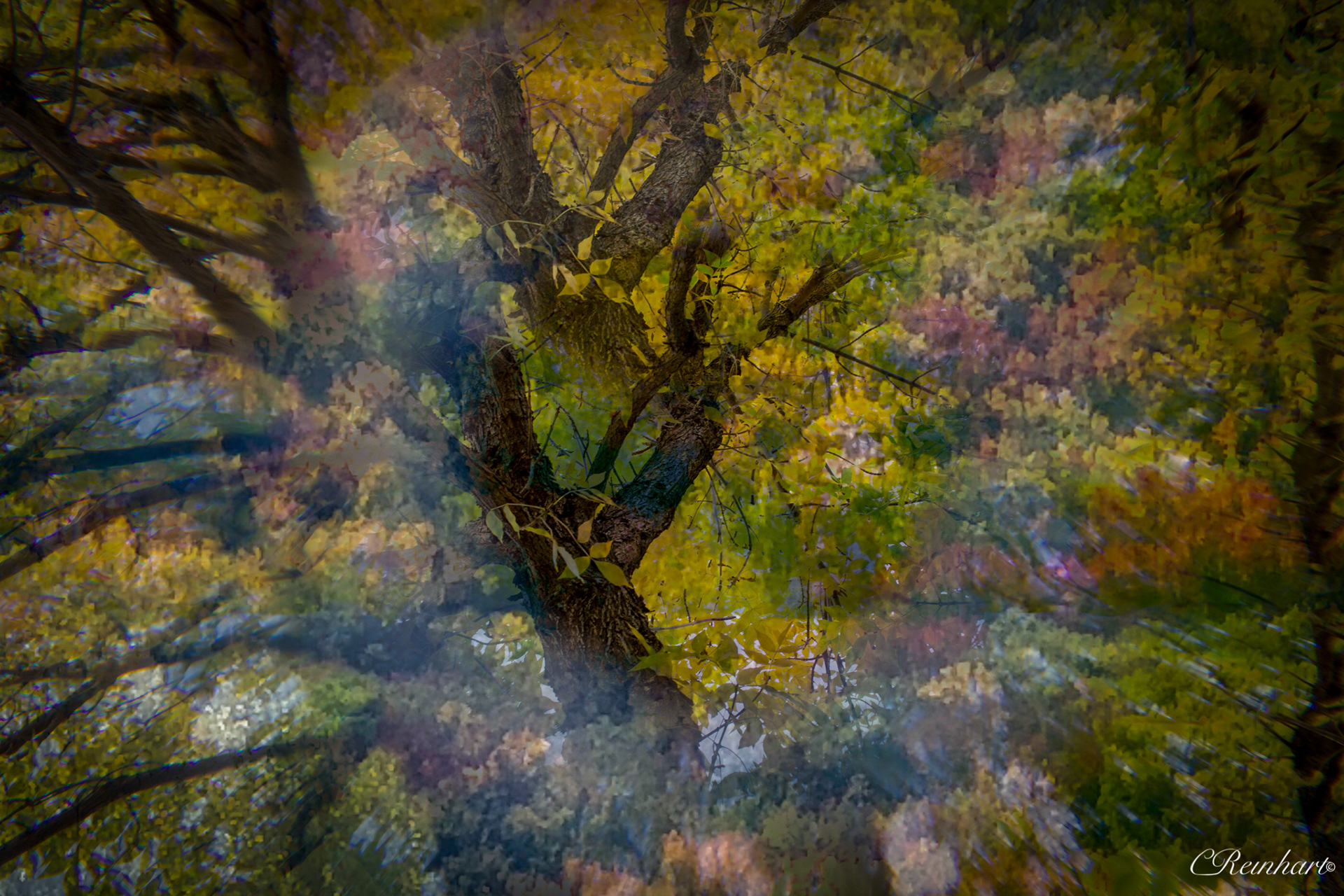 Week 36: Beautiful Chaos

Falls Fantasy
It's that beautiful chaotic time of year once again.
The spiral up from our restful summer to the busyness of Autumn.
Nature seems to mirror the chaos as the leaves change to so many colours
and the leaves fly from the trees spinning in all directions busily through the air.
To create this ethereal chaotic photo I used a multiplication filter 
as well as applying a double exposure technique.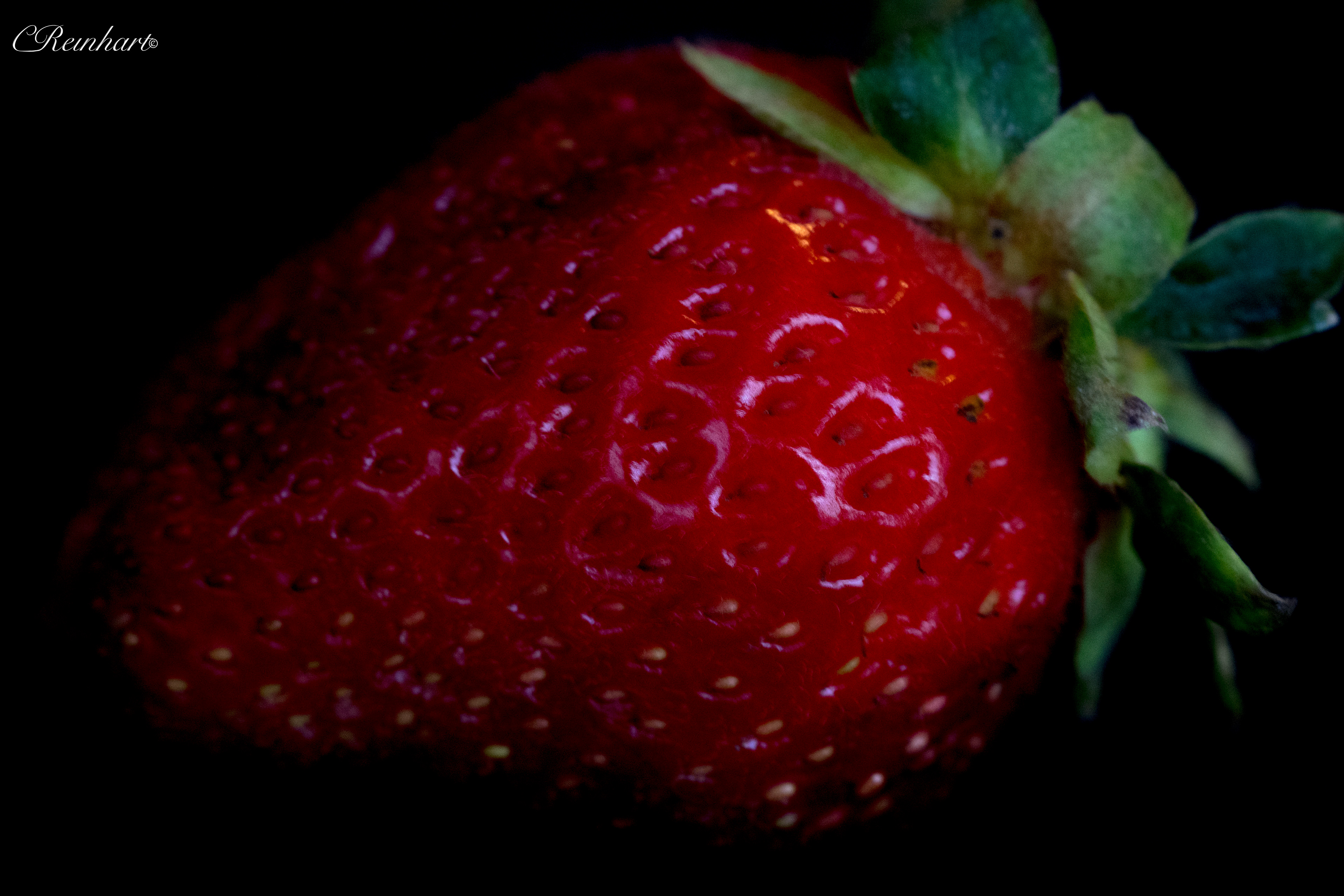 52 Frames Week 35: Texture
Strawberry anyone?
Through the use of light and shadow we accentuate the
texture of this delicious fresh strawberry.
52 Frames Week 34: Purple

This weeks challenge shooting found me at the beautiful Butchart Gardens in Victoria, British Columbia. I had my 5 year old niece with me while I was shooting. I told her "my teacher" gave me homework to shoot purple flowers. She was thrilled for hours running through the garden shouting, "Here Auntie! Here is a purple flower!" Nothing makes you see the world differently than looking at it the way a 5 year old sees it. I never even knew there were that many purple flowers, and I definitely have never taken that many photos of purple flowers. After that honestly the only challenge became which photo to choose. While many of them did fall within the Pantone challenge I chose to forego the extra credit to submit this striking high key photo of a fuchsia instead.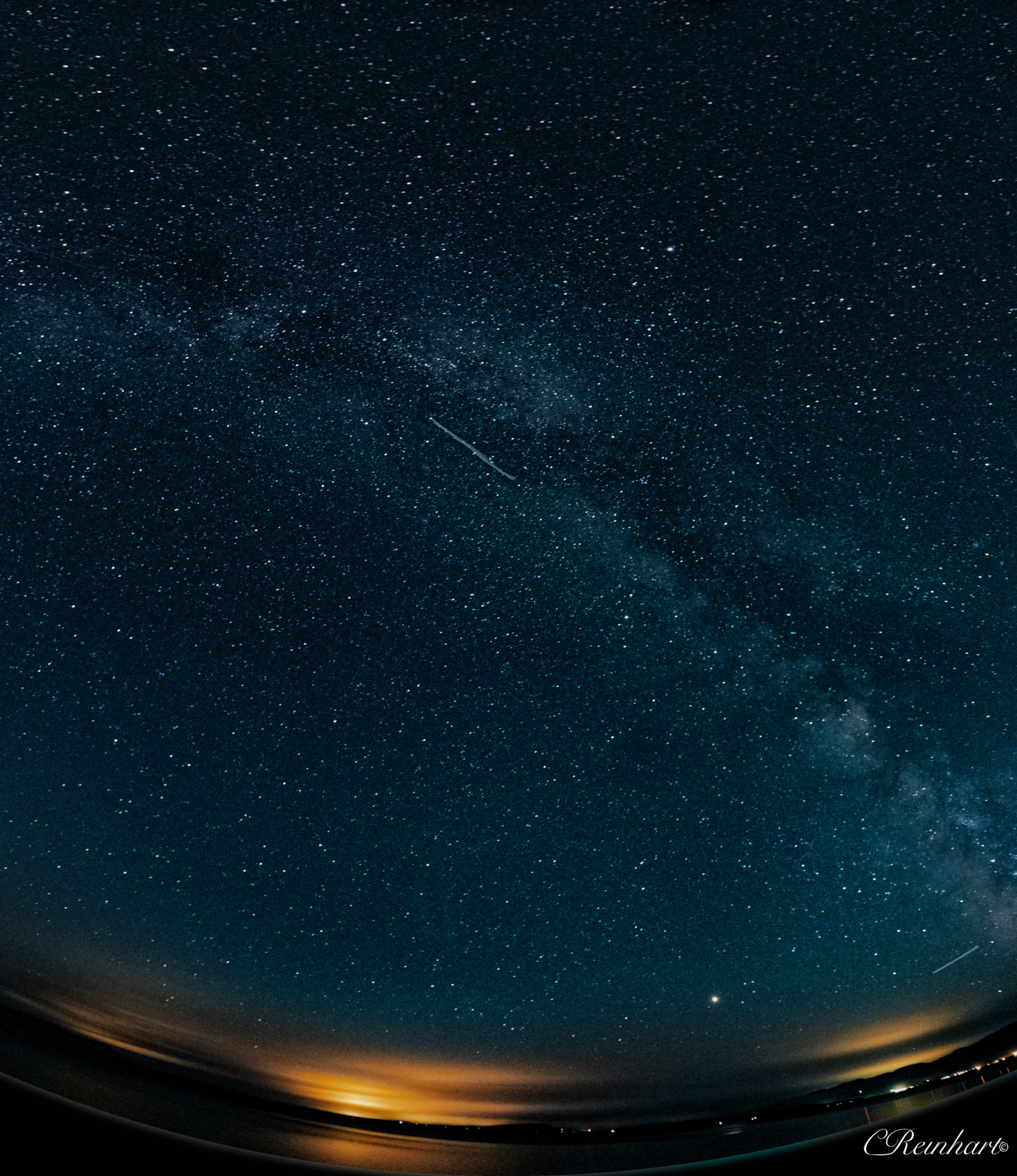 52 Frames Week 33: Night photography 
Extra Credit: Astrophotography
Inspired by the song, ""Dream A Little Dream Of Me"" by Ella Fitzgerald
Stars shining bright above you (oh yes, they were)
Night breezes seem to whisper ""I love you"" (a romantic evening photoshoot on the beach with my favourite man)
Birds singing in the sycamore trees (well ok they were seagulls)
Dream a little dream of me!
Alas the dreams were interrupted with a terrifying CRUNCH, as my beloved (camera not man)
hit the rocks on the beach! 
As yes, shooting in the dark is a beautiful if hazardous pursuit.
It remains to be seen how much the camera hospital bill will be for this damage.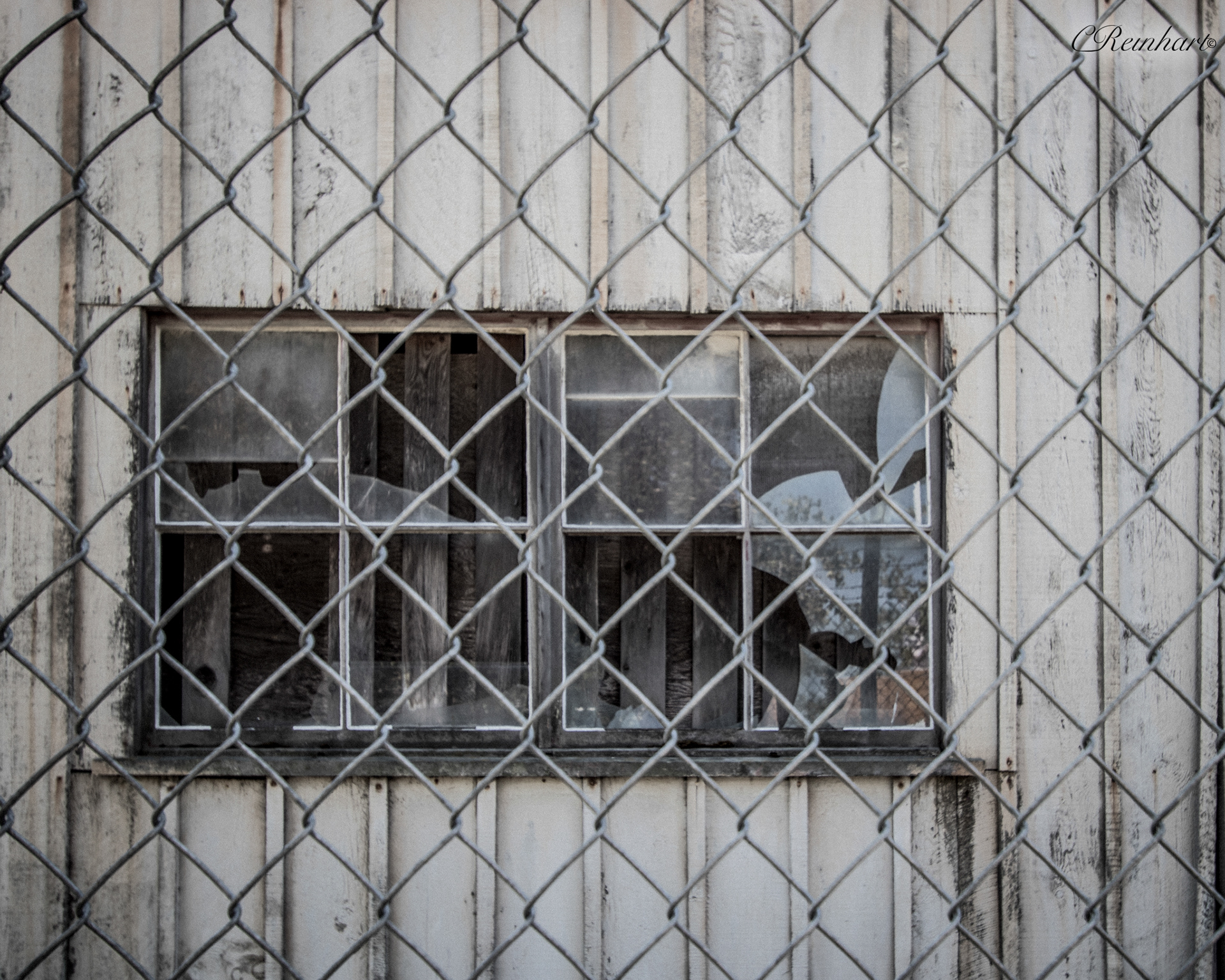 32 Weeks: Squares
"Through the Fence"
People are trapped in history and history is trapped in them. - James A. Baldwin
This picture was taken at the Britannia Shipyards National Historic Site in Richmond BC which is 
an authentic representation of a once thriving community of canneries, boat yards, residences and stores. 
We came upon this wonderful historical site while seeking out filming locations of the tv series, 
"Once Upon a Time", while on vacation in the Greater Vancouver area. 
The juxtaposition of the squares in the chain link fence against the squares in the window
 bring a sense of depth and dimension to this mysterious historical window. 
The voices of the ghosts of the people who were trapped working behind
 these windows escape through the shattered glass to cry to us 
stories of how their sacrifices shaped our lives.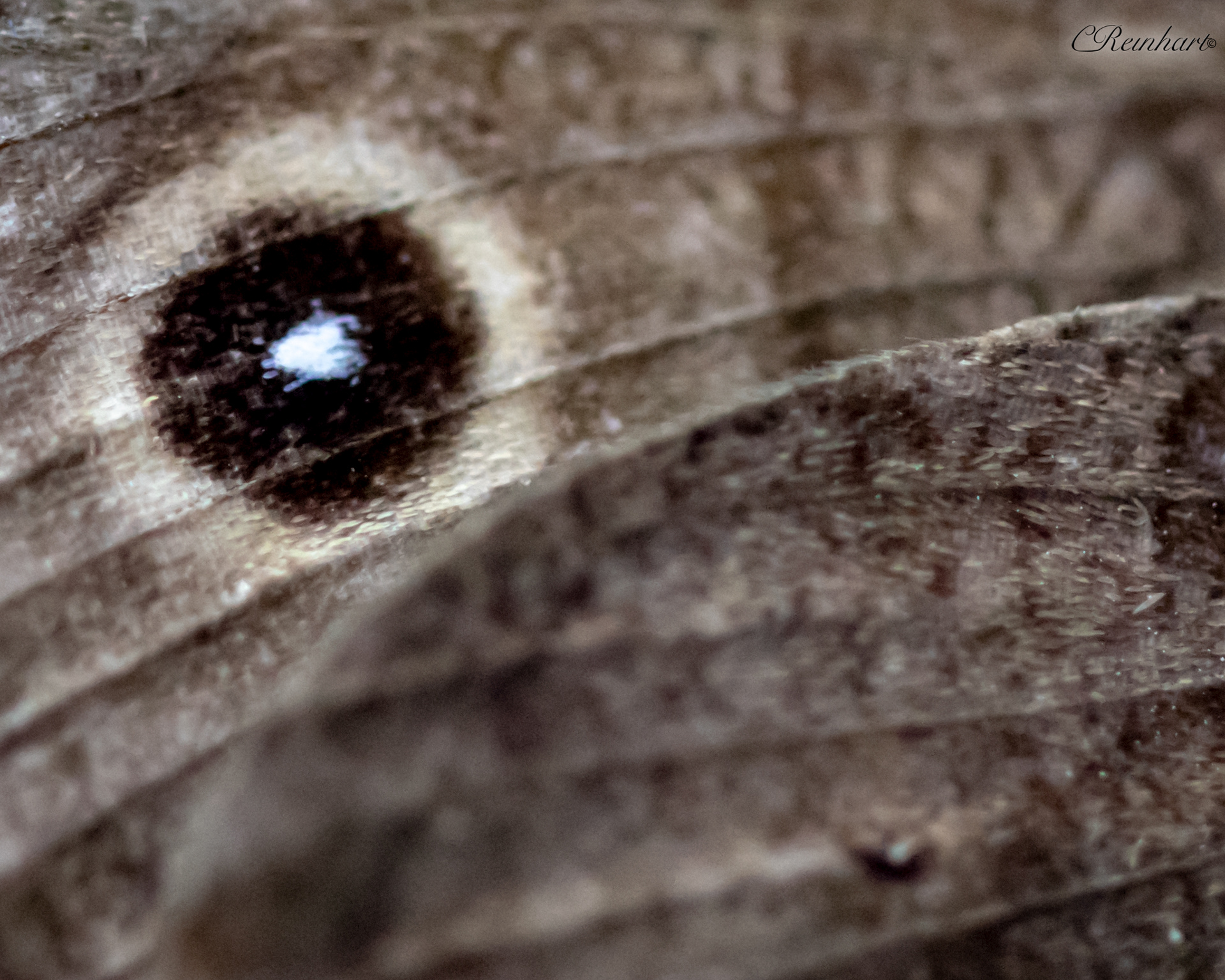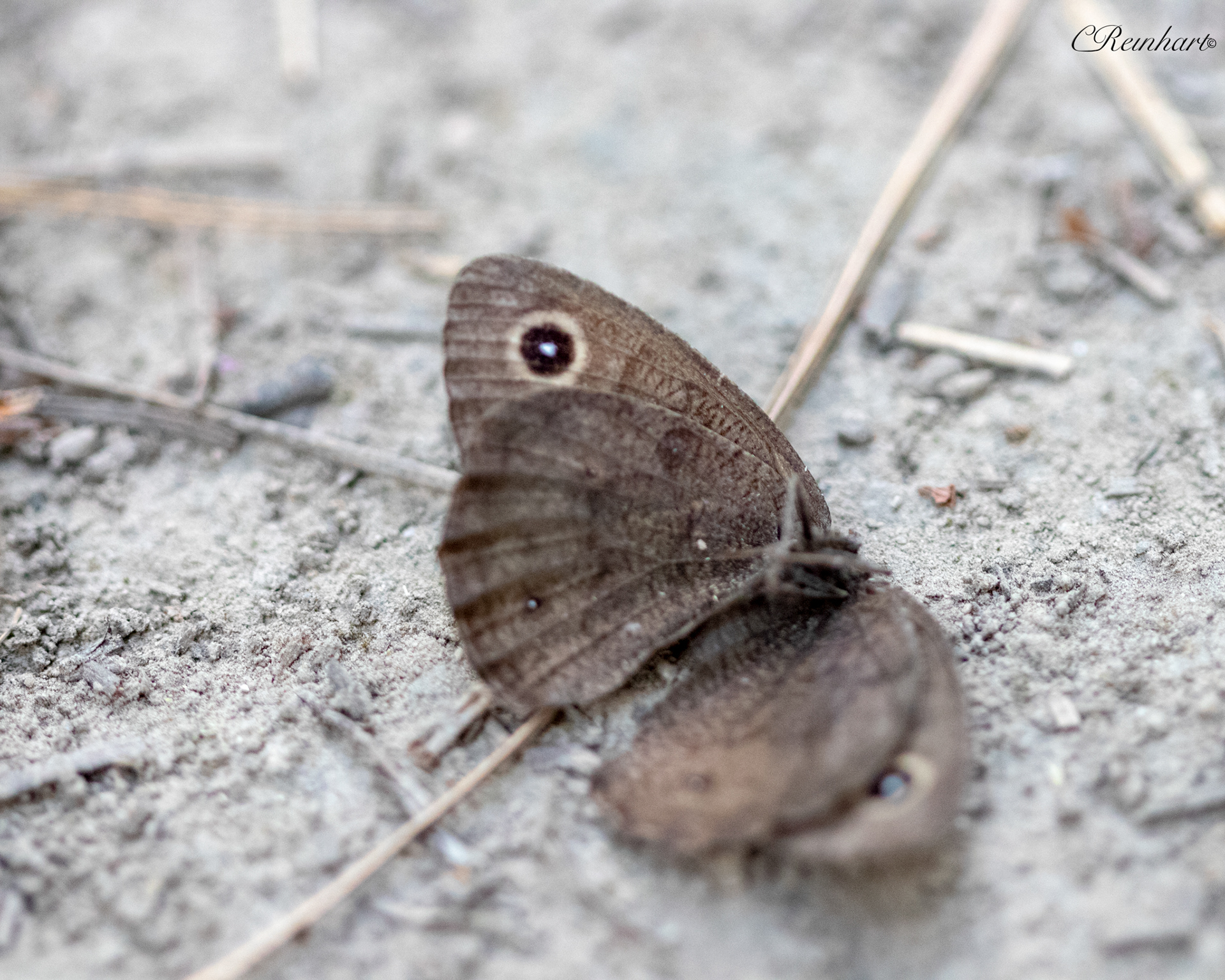 Week 31: Guess what it is! Extra Credit: Nature
I flutter and I flitter;
pictures of me are painted with glitter.
Though fragile is my wing
I am a pretty thing.
What am I? See the second picture to reveal the full picture.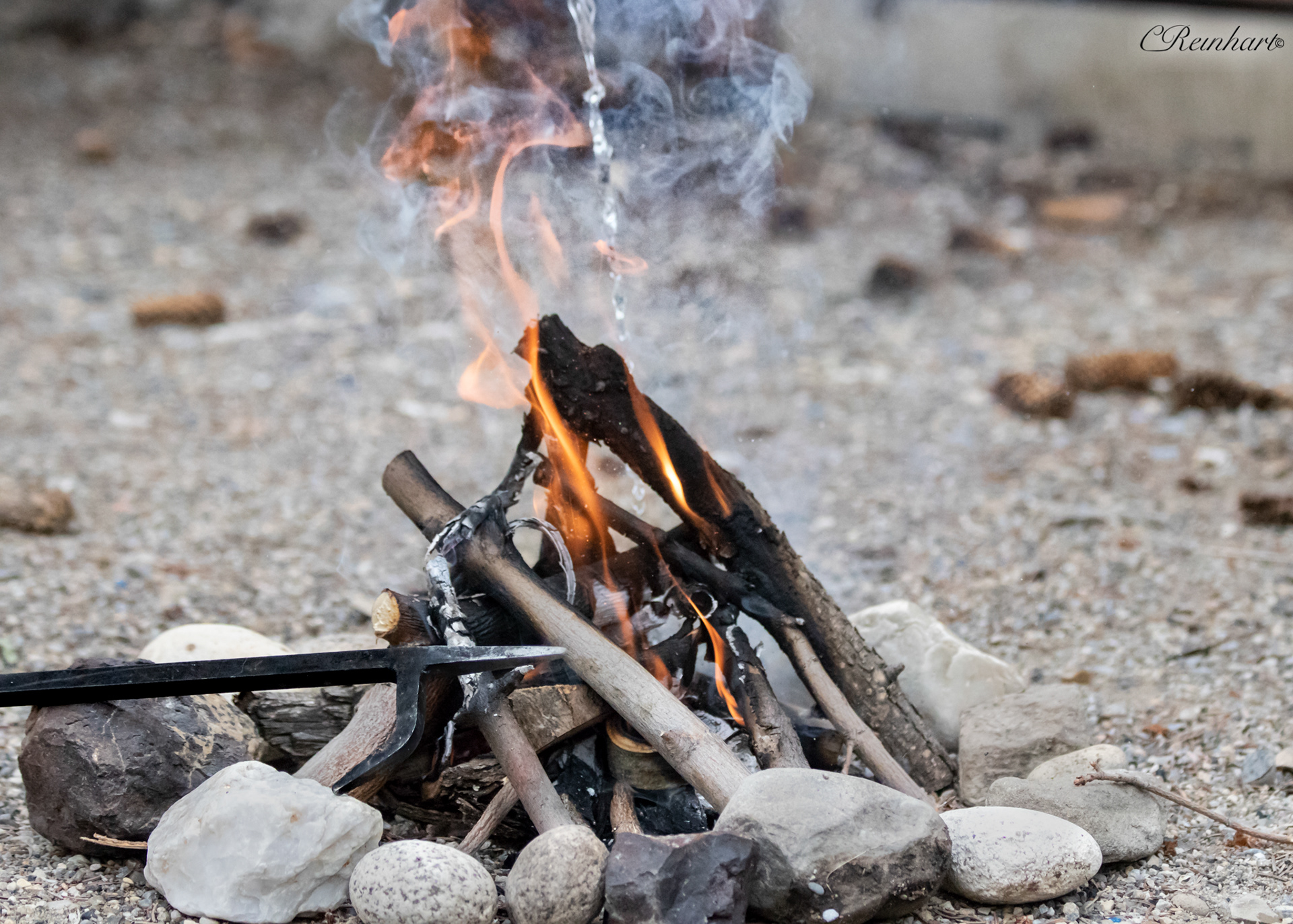 52 Frames Week 30: The Five Elements (earth, wood, fire, water, metal)     Extra Credit: Show All Five
Wood on earth;
burned by fire;
stoked by metal;
doused by water;
smoke rises up to the sky.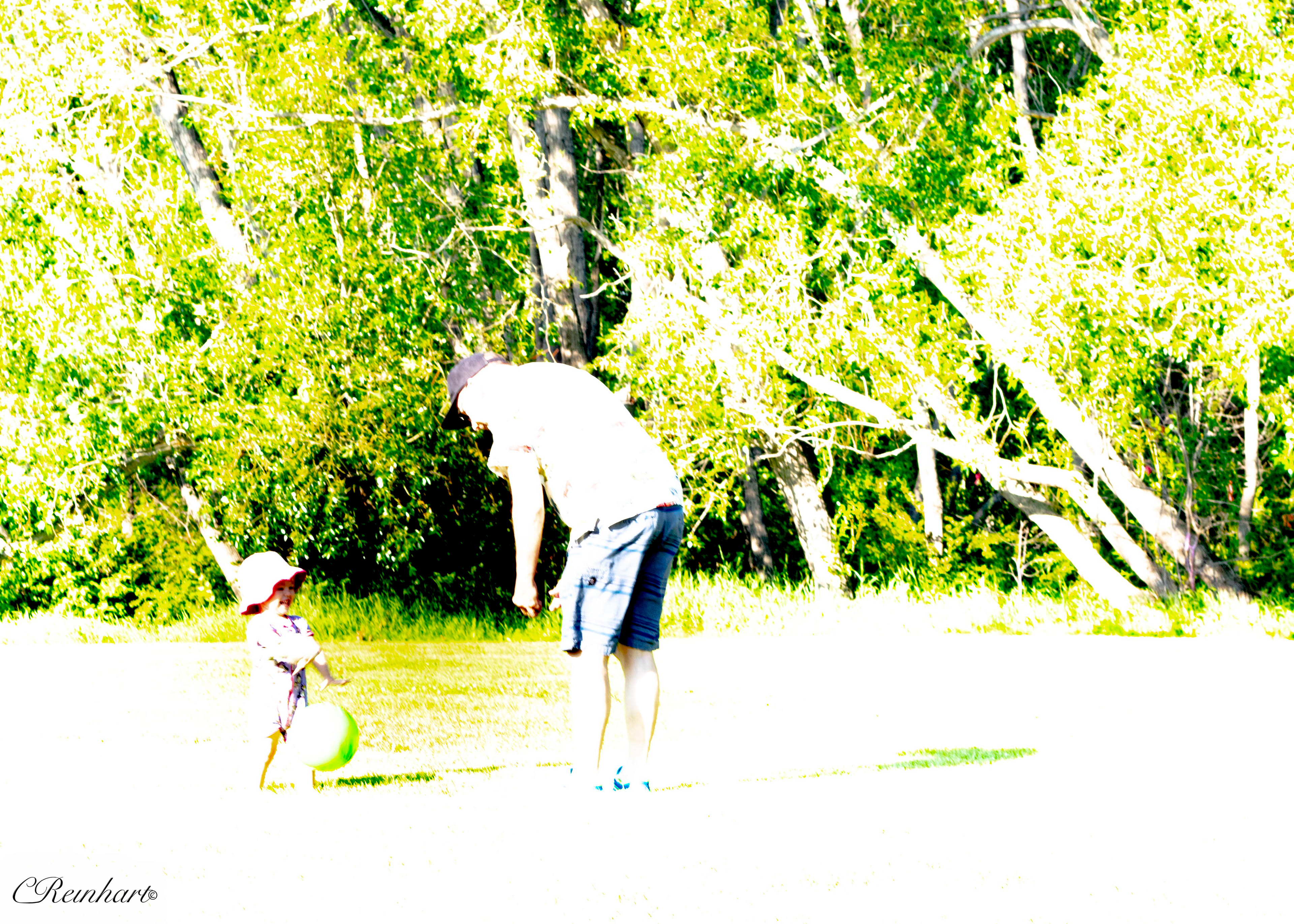 52 Frames Week 29: High Contrast
What happens when you take a well exposed photo
and punch the contrast to every extreme?
I was experimenting in my Lightroom to see what photos would provide and interesting project for this week.
This was not the one I thought would work; 
as a matter of fact it isn't even one I meant to try.
When I am working with my photography students we talk about "happy accidents" -
things that happen in  your photography life that you did not mean to happen, 
but that end with a lovely finished product.
This is a "Happy Accident Photo".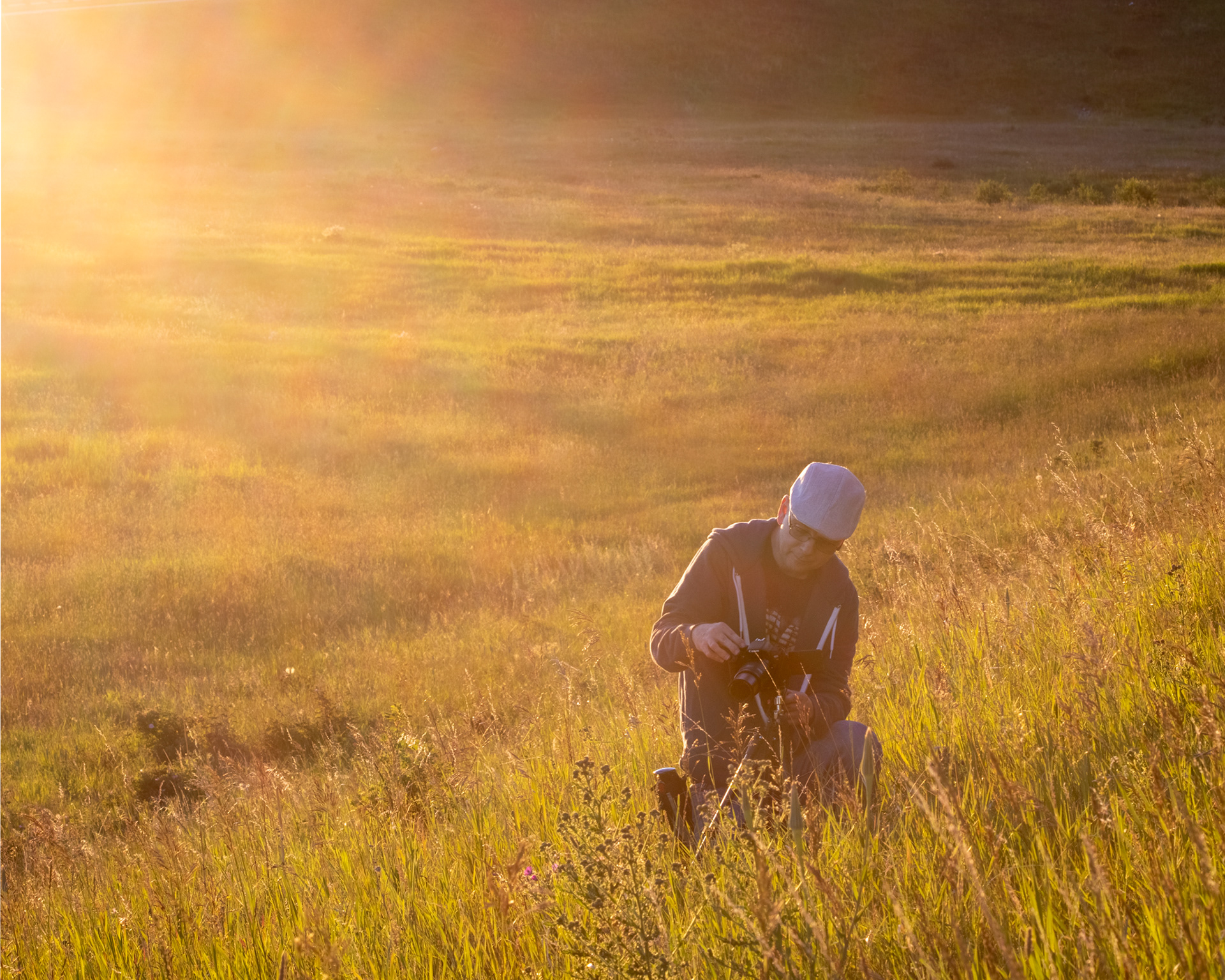 52 Frames Week 28: Golden Hour
The time after sunrise or before sunset when that beautiful golden colour lights up the earth.
The glorious, relaxing, rich amazing light creates beautiful photographic opportunities.
Whether it is a sunrise or sunset;
or just something or someone basking in the glow
the light brings a unique element to an otherwise ordinary image.
Frames Week 27: Details        Extra Credit: Patterns
Shooting birds is one of my favourite pastimes (photographically speaking of course).
I love the detail in this photo from the lines and colours in the feathers to the details in the baby bird wanting fed.
Even the grain of wood and the details 52in the bird house attract my attention.
The patterns of feathers in the wing span draw my eye across the image 
to where the little bird is right in the crevice of his momma's wing.
52 Frames Week 26: Use a Mirror.        Extra Credit: Optical Illusion
To Infinity and Beyond
I was playing around with this round mirror while I was 
reflecting
 on what to shoot this week.
I was using my iPad to try to see what the camera would see when I noticed...
the reflection of the mirror in the iPad camera created an infinity effect.
The strange thing was if I just took a shot with my iPad at that point the image did on the camera roll
did not reflect what I could see on the li
ve view of the camera app.
So, I took my iPhone and shot the screen of the iPad reflecting the mirror to infinity.
52 Frames Week 25: Overexposed
"I got a Nikon camera. I love to take a photograph.
So mama don't take my Kodachrome away"
- Kodachrome by Paul Simon
As a photography and musical theatre teacher my curriculums often collide. 
I often have a soundtrack playing in my head which inspires my photography. 
Kodachrome by Paul Simon is no coincidental soundtrack for this photo. 
When it is nearing the end of the school year you look for creative time fillers.
 I spent a wonderful class with my musical theatre students modelling for my high key project 
as I was working on creating a photography lesson plan. 
The result of this photoshoot was some amazing images that my students were thrilled to receive as gifts. 
This is one of my favourites from the series.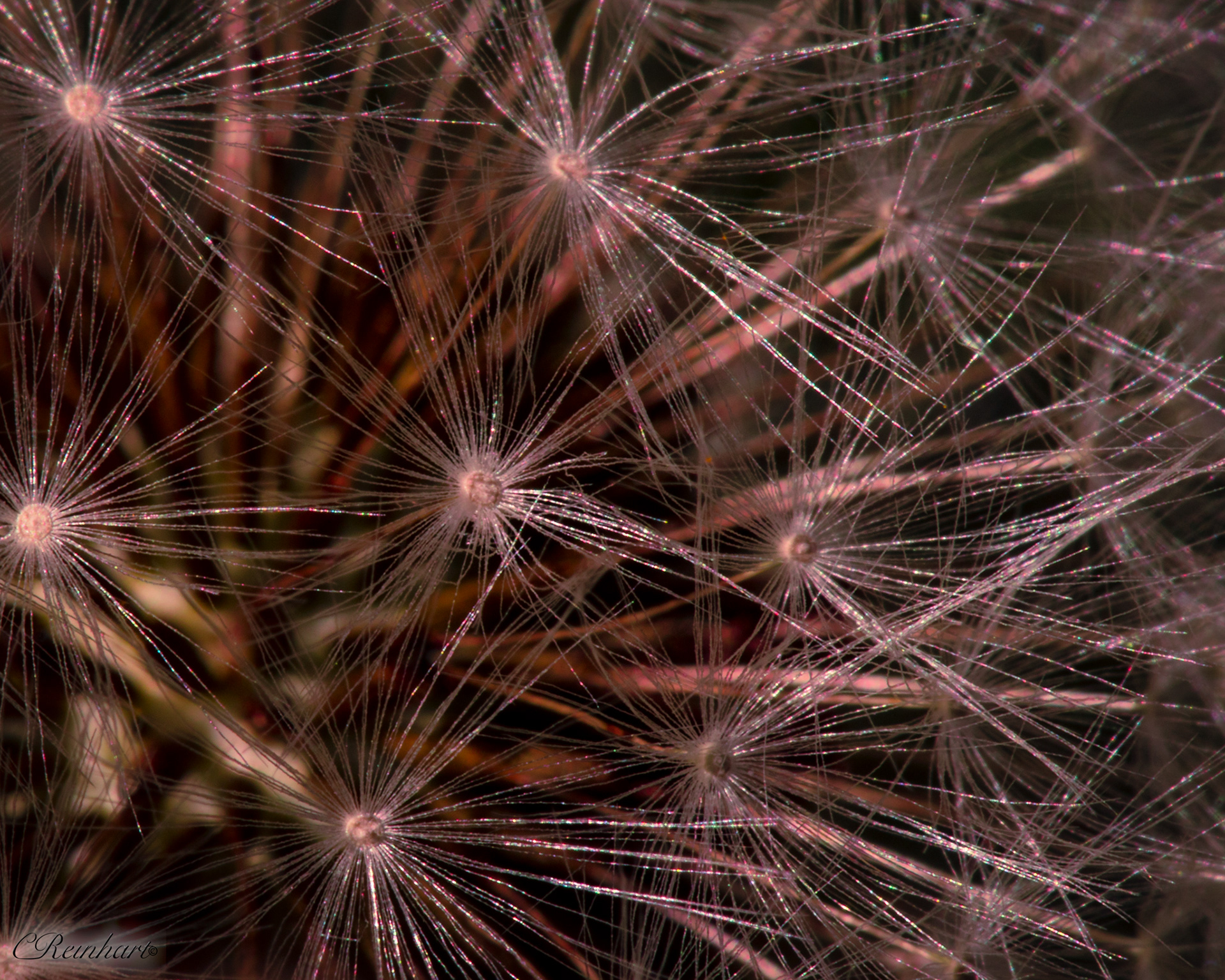 52 Frames Week 24: 100 Steps From Your Door
I choose to take this project literally by taking 100 steps out my back gate into my alley. I was determined to find something of beauty in the most boring of places - a simple suburban back alley. At 100 steps I looked down and what did I see; weeds of course. Yet in this moment with the sun shining beautifully on these plants we choose to call weeds there was beauty. The dandelion gone to seed is truly an amazing structure. The design, symmetry, sparkle, and colour resulted in an image that my mini-framer group thought looked like fireworks. Even in the dullest, ugliest moments of life we should strive to find the beauty, the colour and the sparkle. Live your life seeking moments where "Mother Nature's Fireworks" becomes your focus!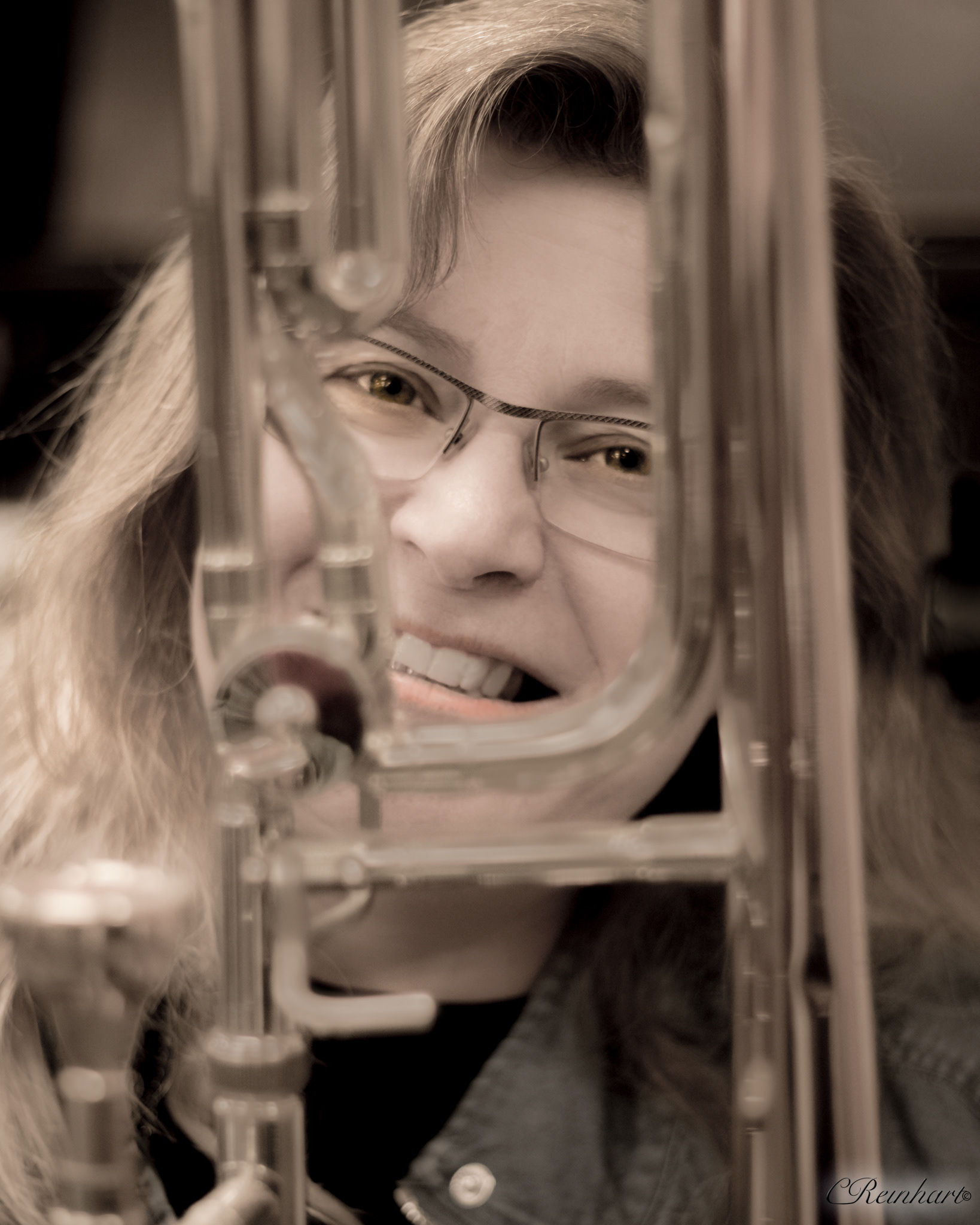 52 Frames Week 23: Partner       Extra Credit: Environmental Portrait
There was much discussion regarding this weeks project around the definition of "partner".
As a result I chose to take a picture of my work partner.
We have been together almost as long as we have each been married.
We have seen each others children grow;
been through several administrations together;
and seen thousands of students come and go.
My job as a drama teacher would not be nearly as much fun
 if I did not have an incredible music teacher to partner with.
Together we make a great performing arts team - 
of course we can be unbearably silly at times.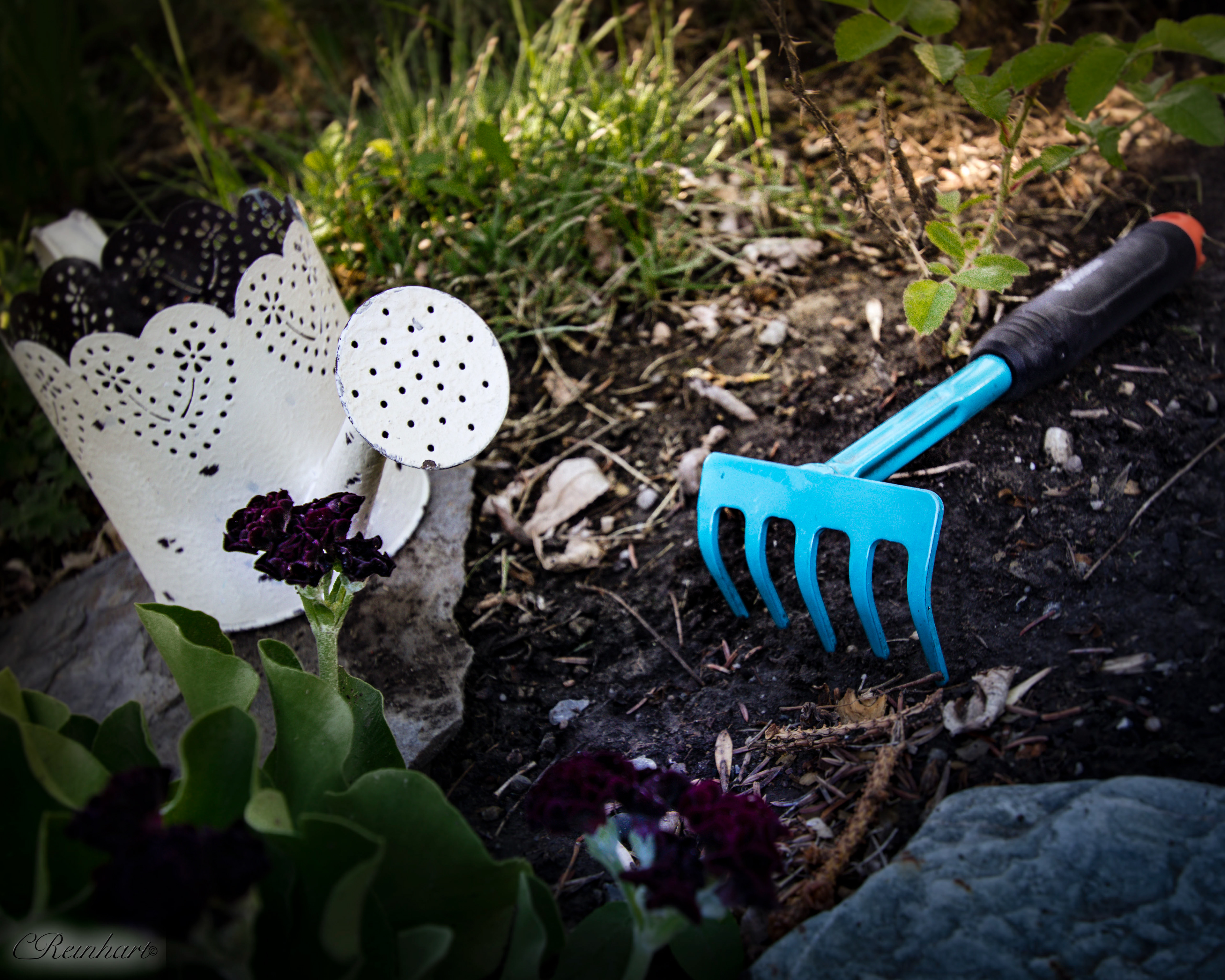 52 Frames - Week 22: Tools
I struggled this week to get a photo that made me happy. 
It was a busy week and I was just trying to quickly get the job done.
Then I read a post online that made me stop...
"Take time to do what makes your soul happy."
That was it... I wasn't taking the time.
Out I went with my camera to follow this sage advice.
The result; something I could be proud to post.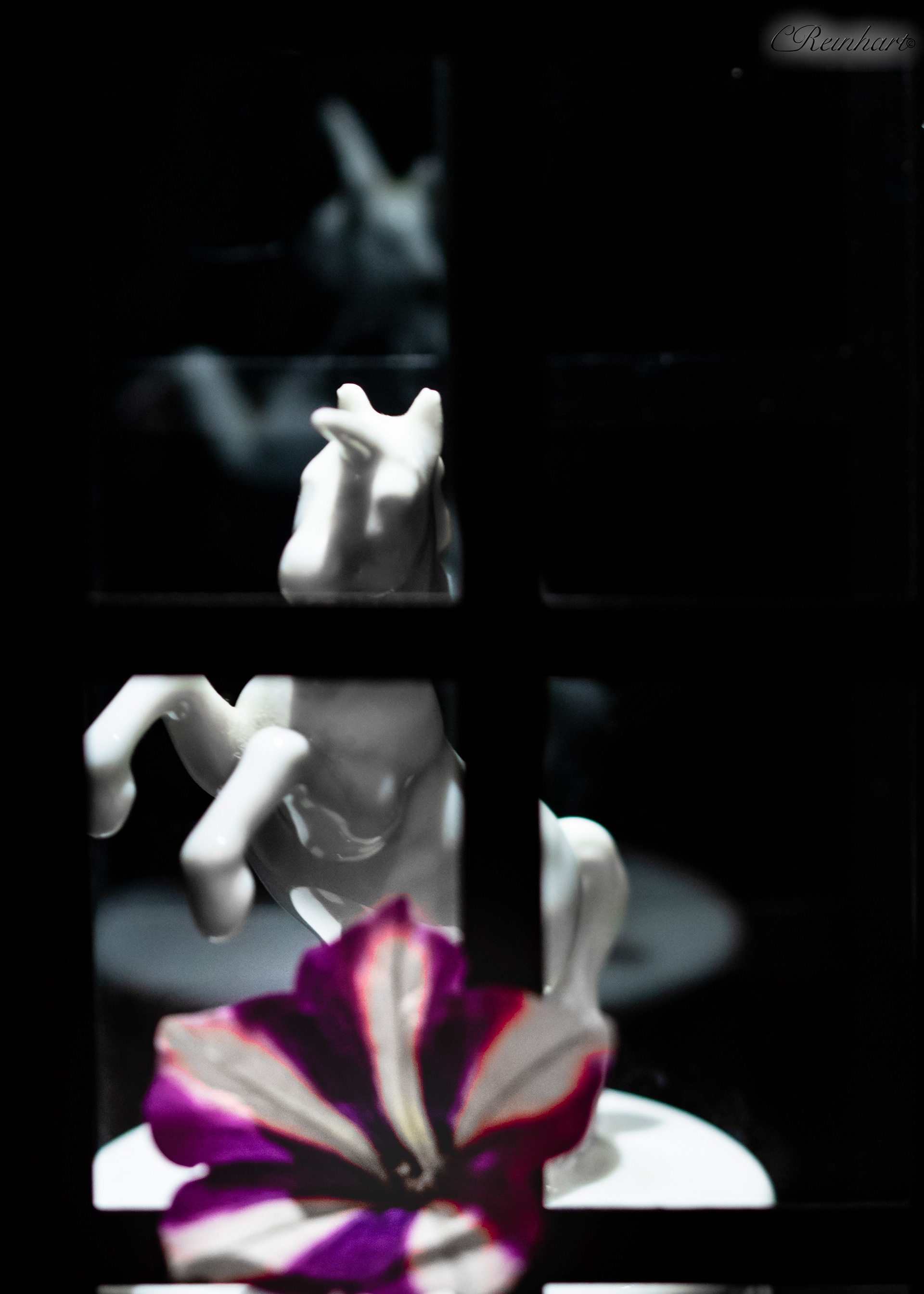 52 Frames - Week 21: True Black and White      Extra Credit: True Selective Color
Fear is a self-imposed prison 
that will keep you from becoming the person that God wants you to be. - Rick Warren
You can never be happy if you are trapped in the past;
fearful of the future;
looking at life through the bars on the window.
Open the door and crack the window.
Leave the safe and dreary 
to enter into the life of colour and beauty on that is beyond our self-imposed prisons.
Week 20: Something you Dislike 
Chillin' out in this lovely flower in the greenhouse this fly posed for a portrait. 
I dislike anything insect like but was drawn by the colour of the flower contrasting with the dark little fly. 
All I had was my iPhone so I took it as a macro challenge to see how close I could get and how long he would stay. 
The composition is lacking because his patience was lacking.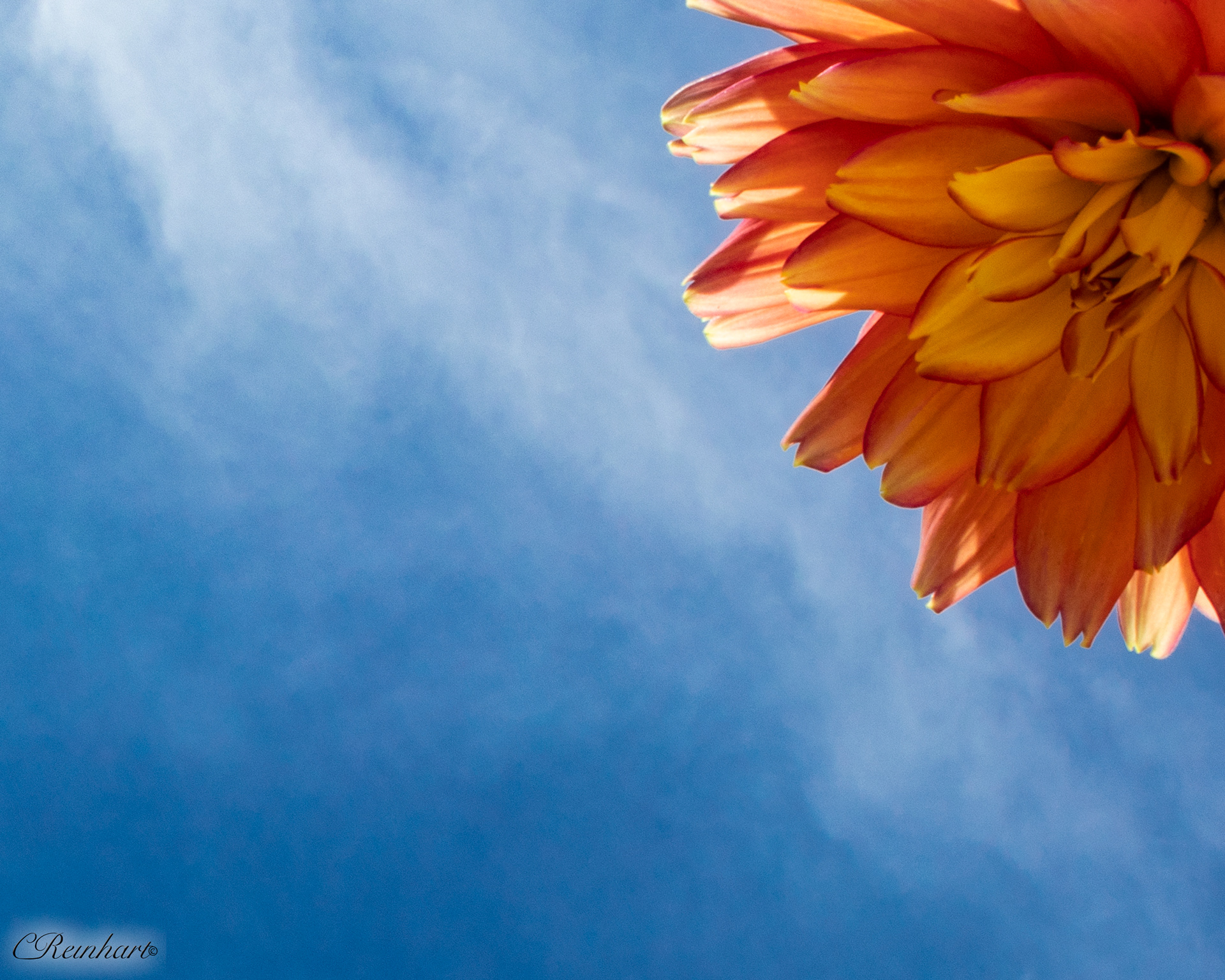 52 Frames - Week 19: Negative Space     Extra Credit: Complementary Colours
Sun, sun, Mr. Golden Sun, please shine down on me!
Negative space is a photographic concept that I struggle with.
This week I couldn't help but think about the complementary colours so I began there.
The struggle was real to get the angle I was after and the lighting just right on the flower.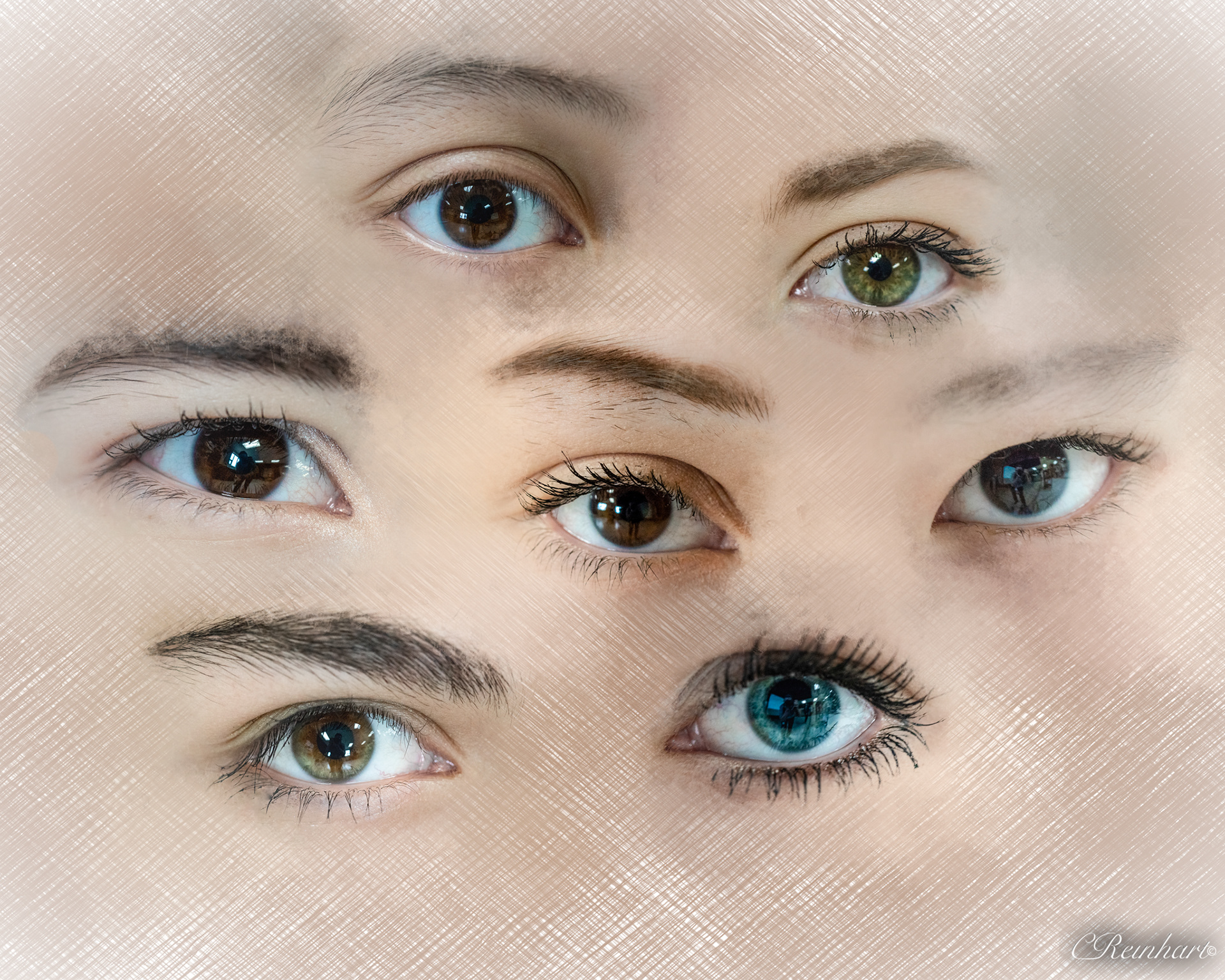 52 Frames - Week 18: Body Parts
I love pictures of eyes so, when this weeks theme was body parts I knew what I wanted to do. 
I was worried though that I would not be able to get the eye in perfect focus. 
I have tried many times to take photos of eyes and not been successful. 
Well, luckily I just got a new camera yesterday. 
I upgraded from my Canon T5i to a Canon 80D. WOW!! What a difference! 
All I needed now was an eye to shoot. My musical theatre class happened to be first thing in the morning. 
What a sweet, beautiful group of young girls. I couldn't decide who's eye I liked best so I decided to shoot them all. 
These girls are such a wonderfully cohesive group. 
They move and act as one so often - and there was my inspiration. 
No matter what the differences between these girls they always come together as one.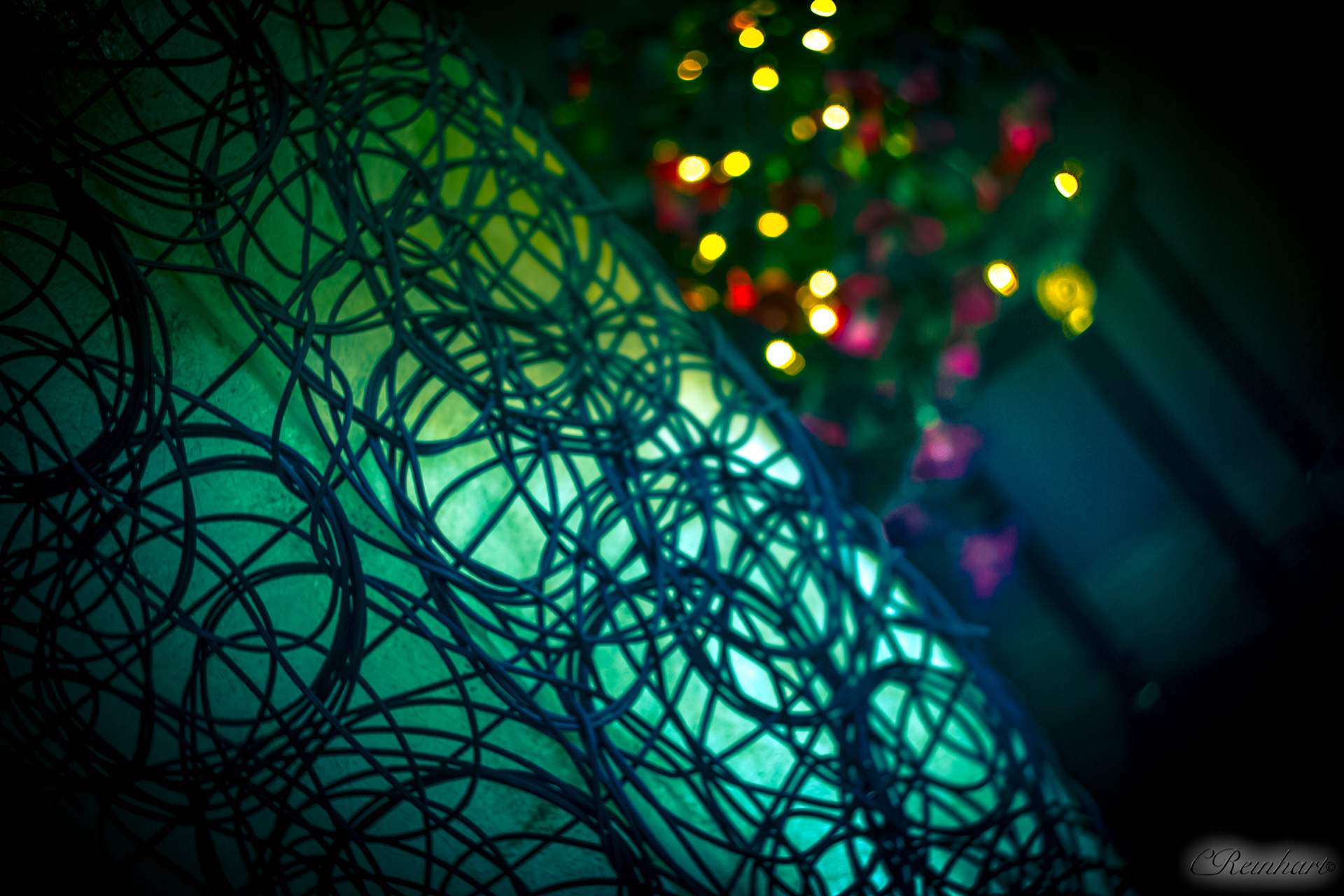 52 Frames - Week 17: Circle     Extra Credit: Fun with Bokeh
The light in my living room has an overlay of spiralled cord to create a beautiful texture. 
For a little bokeh in the background is some lights draped on the plant and table in the corner. 
I really wanted to get the light just right so the bokeh would work 
but you would also be able to get a sense of the plant and not just the darkness.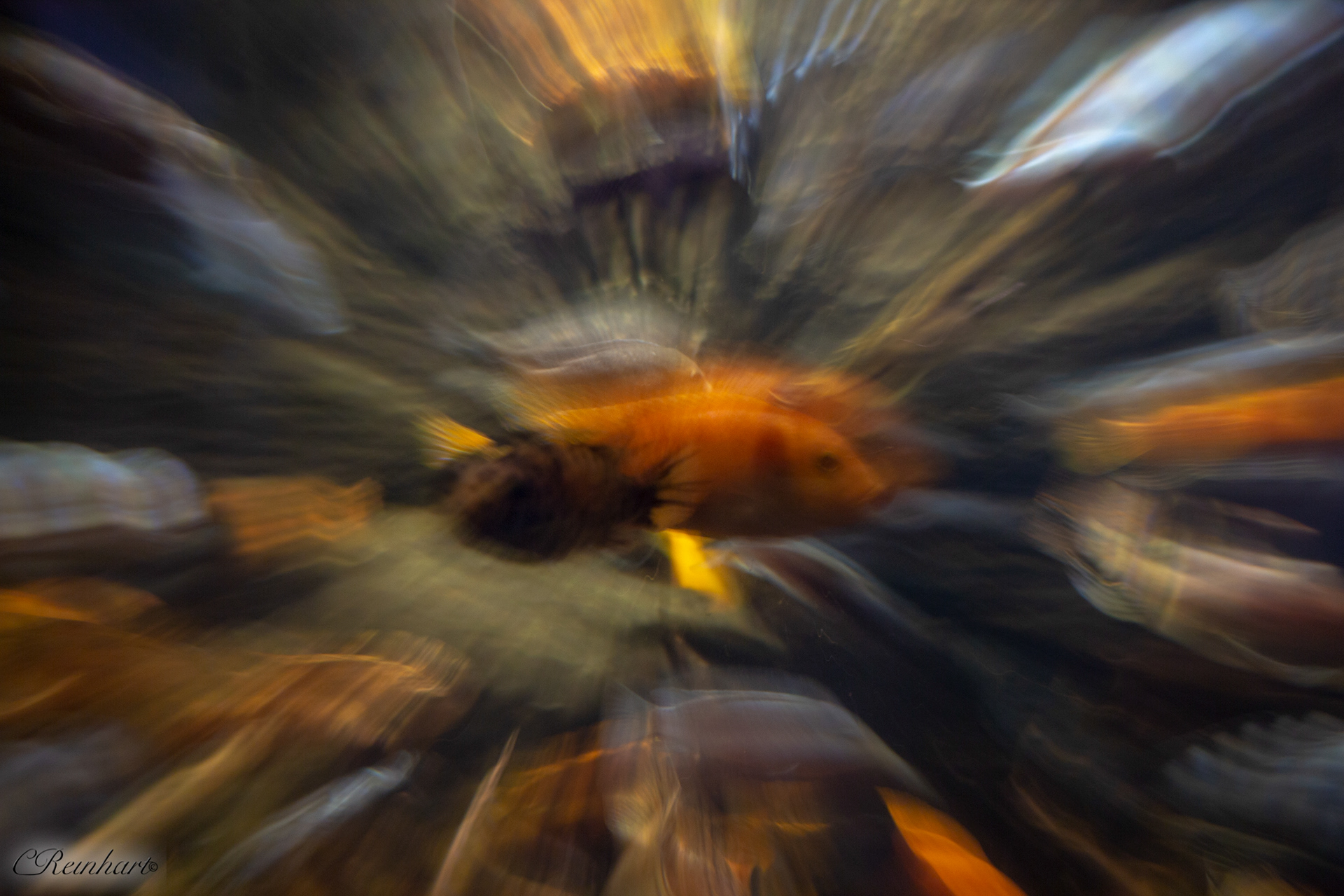 52 Frames - Week 16: Abstract      Extra Credit: Impressionist Photography

One Fish, Two Fish....
more fish, blur fish!
Loved taking this aquarium photo at the Calgary Zoo.
Using focus racking with a long exposure created a wonderful abstract motion effect for this little fish.
The motion was compounded of course by all the millions of other fish swimming past;
while these two wonderful models happened to hold still(fish) in the middle of the frame.
52 Frames - Week 15: In the Kitchen      Extra Credit: Vintage
Red Hot and Sizzling
An old cast iron frying pan on a red hot element;
don't forget the little metal star that you put on the burner to keep things from burning.
52 Frames - Week 14: Blur the Action         Extra Credit: Light Painting
Gently Spinning Out of Time
"And you've been so busy lately 
that you haven't found the time 
To open up your mind 
And watch the world spinning gently out of time ."
(Songwriters: David Rowntree / Damon Albarn / Steven Alexander James)
In this image I wanted to create a sense of hope, peace and calm
for those who feel life is spinning out of control.
A visual reminder that the beauty of life still exists 
even as we speed through our days.
Sometimes it's just a little less in focus.
When we have the opportunity to slow down a little
the beauty the is our lives will fall back into focus once more.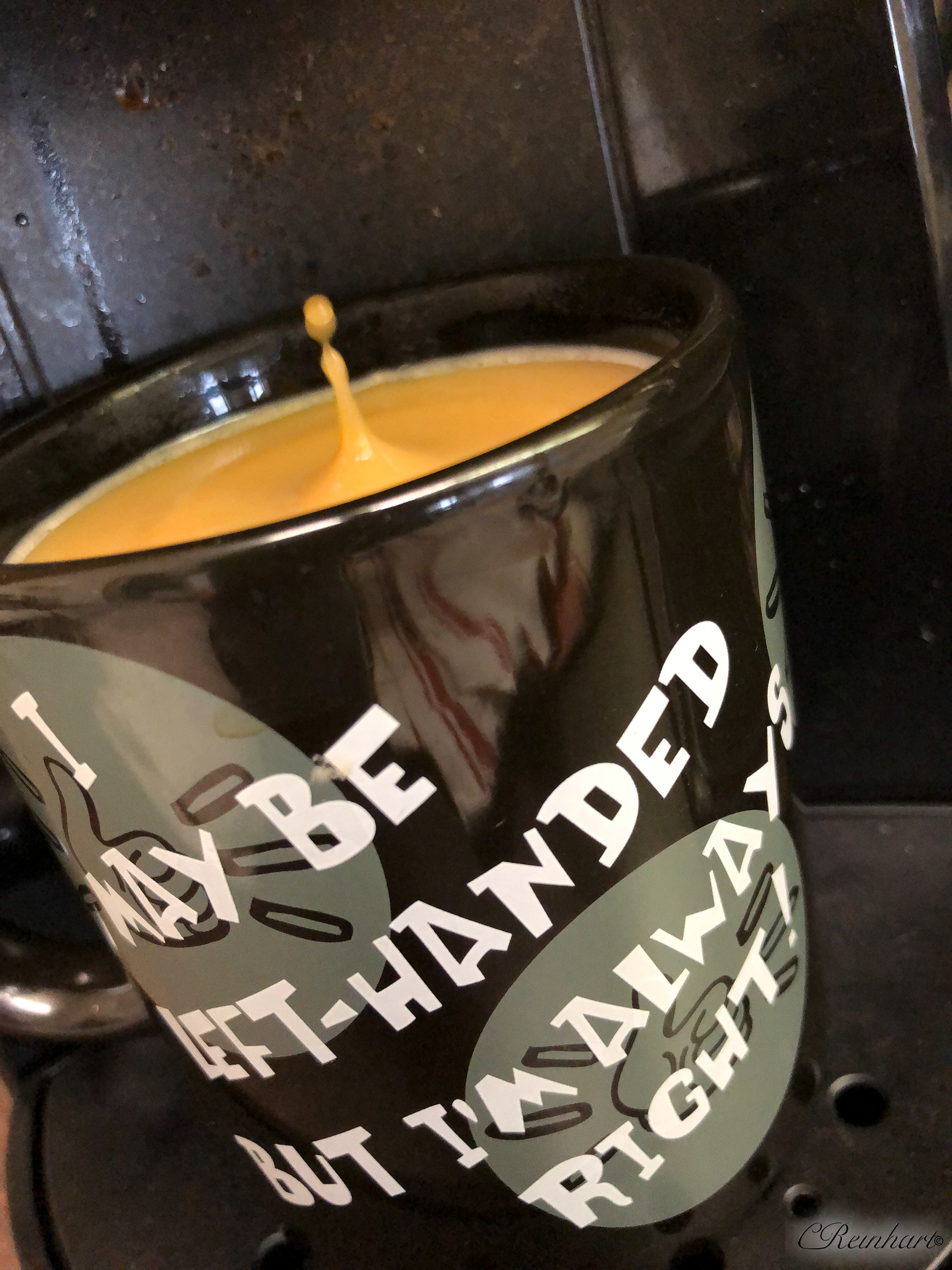 E52 Frames - Week 13: Smell
"Wake Up and Smell the Coffee"
A junior high is full of many smells (most of them bad);
however the aromatic and overwhelming smell of coffee 
from the staff room gives the teachers hope.
52 Frames - Week 12: Black and White
Nothing like classic black and white to bring out the detail in a subject.
As I was coming home from work I was thinking about what I would shoot for my project.
As I walked up to the door on this warmish last day of winter;
I noticed that my cotoneaster was covered in the most amazing icicles;
a perfect subject for today!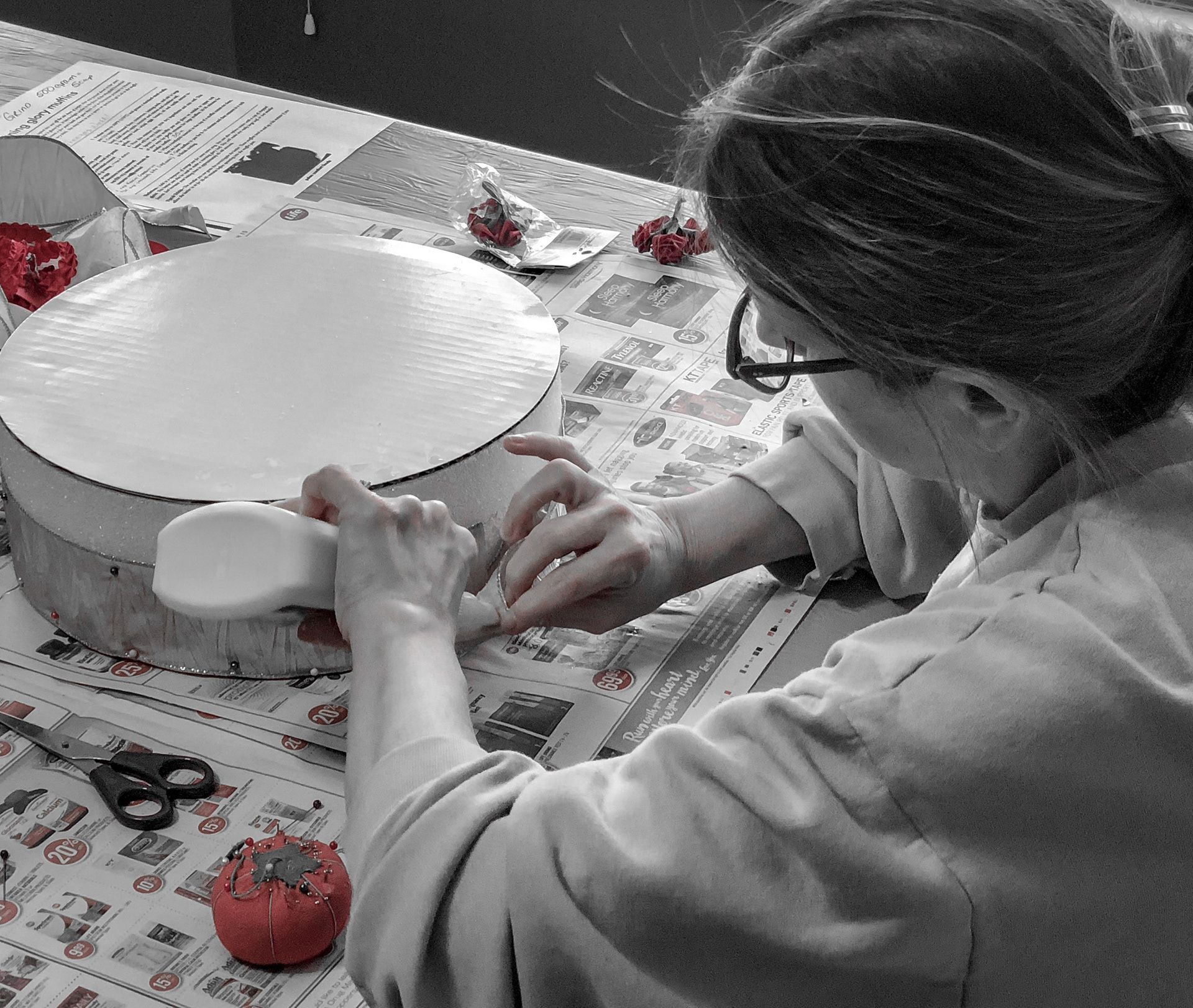 52 Frames - Week 11: Candid setup     Extra Credit: Story
Staged!
This photo's title has multiple meanings.

Like a cake with many layers, this photo is layered with one element of fake on top of another.
1) As per this weeks challenge the photo is STAGED to look like a candid shot.
2) The subject of the photo is a drama teacher making a prop for a STAGE production.
3) The prop is a fake birthday cake for the STAGED birthday that happens in the production.
52 Frames Week 10: The Sky     Extra Credit: Astrophotography
Vastness
The most exciting thing about photography is the places it takes you.
There is a provincial park near by; "Big Hill Springs"; that I have been meaning to visit.
Of course; I really originally meant to go in the day.
So off we went; to a park, in the middle of no where, in the dark of the winter night.
The positively vacant park ,in the dark of the night emphasized the vastness of our universe;
the vastness which I tried to capture in this photo.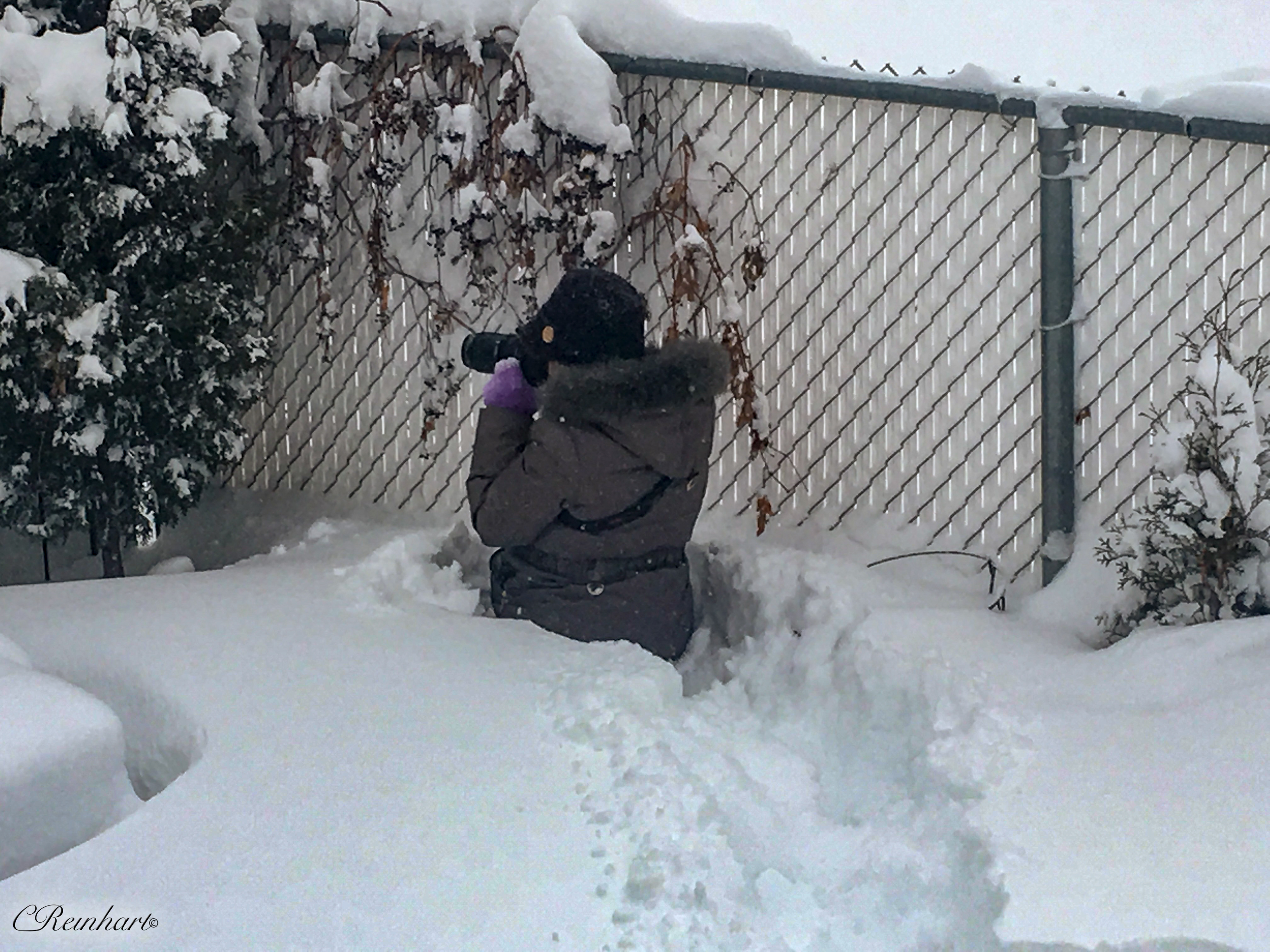 52 Frames Week 9: Depth of Field Extra Credit: Macro
Berried in the Snow
When you have record snowfalls you need to make the best of it.
Depth of field does not in this case refer to the depth of snow in the field.
This was taken with my 100mm macro lens 
while I was kneeling in the snow up to my waist.
The second picture is the shot of me taking the shot :)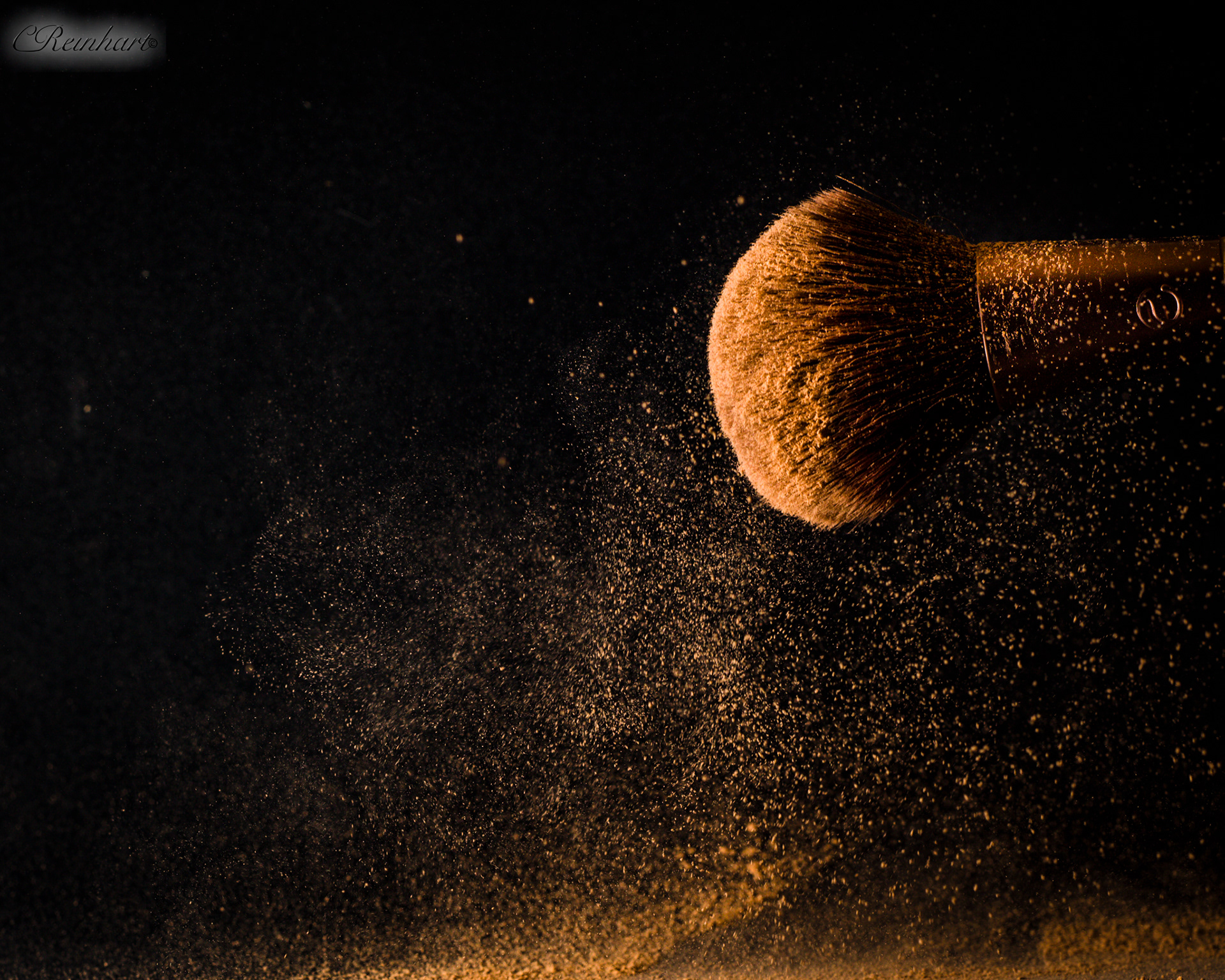 52 Frames Week 8: Common Object
Extra Credit: Product Photography
This weeks challenge was to photograph a common object.
The challenge is to capture the object so it becomes an object of, "photogenic amazeballness".
So here you go ecotools.com
I created this product shot just for you;
because, I really do love your makeup brushes.
Bring a little glitter into your life
with "ecotools makeup brushes®".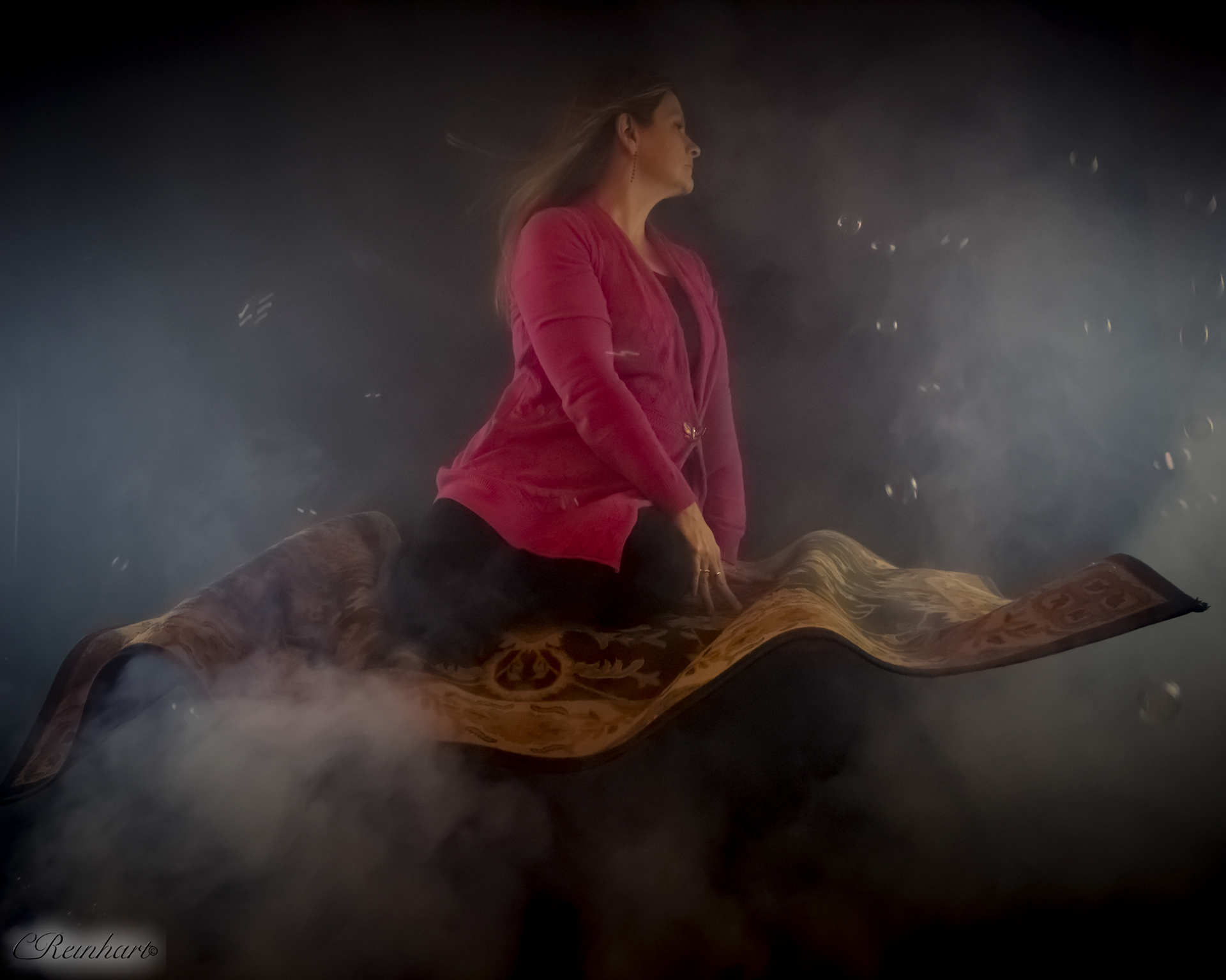 52 Frames Week 7: Levitation
Extra Credit: Fog/Smoke
...and maybe a few bubbles too!
As soon as I knew this week was levitation I knew exactly what I wanted to do.
I have always wanted a ride on a  magic carpet and now was my chance.
With a lot of patience and some help from my favourite assistant I had lift off without to much trouble.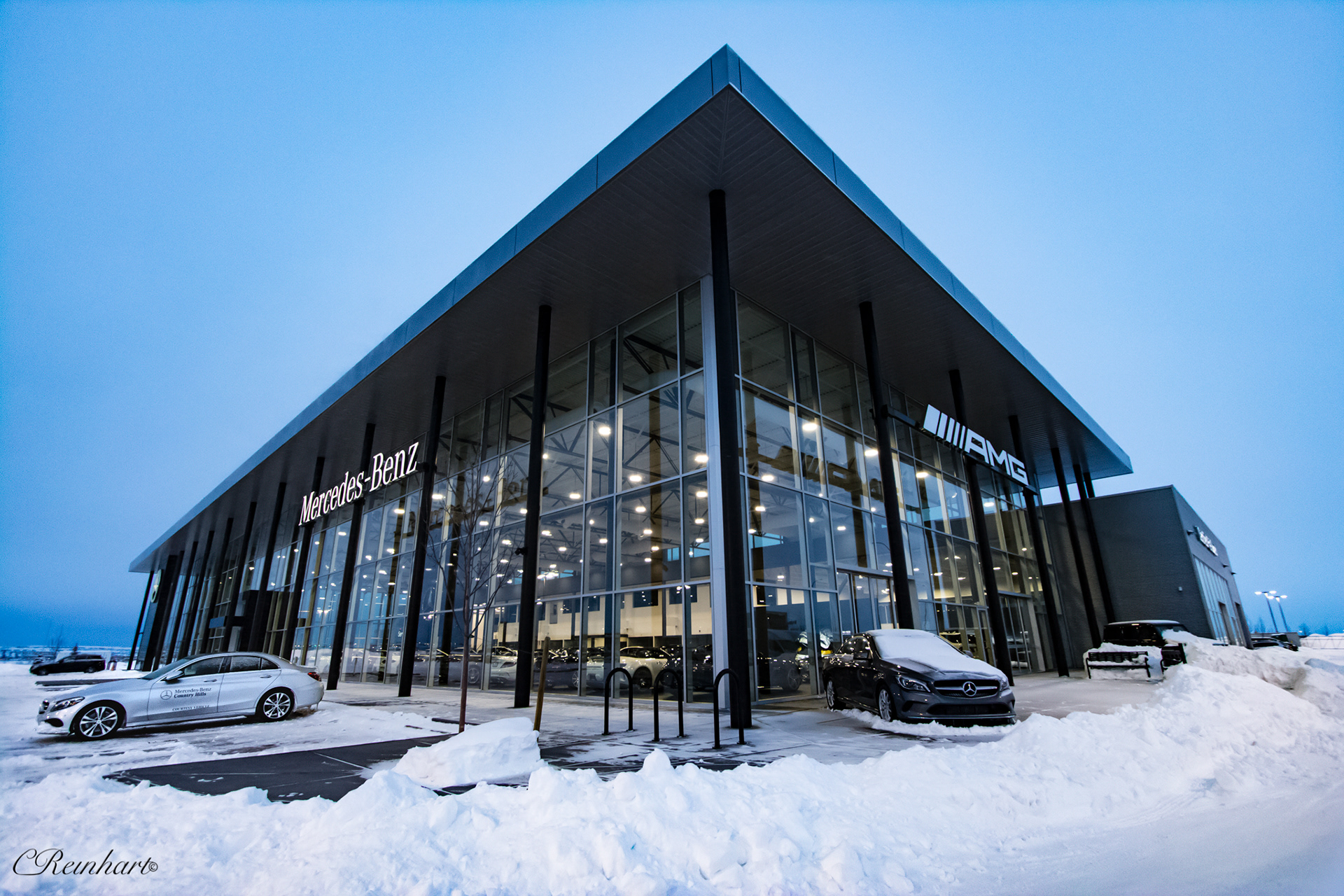 52 Frames Week 6: Architecture
Extra Credit: 10mm or Wider
Weather is certainly a factor when Workington Architectural photography.
This week it played an extra factor though.
With the hoards of snow we have had in Calgary I have tried to avoid driving around.
That is hard to do when you are looking for a wonderful building to photograph.
As I talked about it with my husband he recommended a wonderful piece of architecture very close to home...
The Country Hills Mercedes-Benz dealership.
Off we went for a 7am photo excursion to catch the morning blue hour
and then to nearby Pacini's for an amazing breakfast.
If you're looking for a car consider shopping and breakfast near Country Hills and Deerfoot in Calgary's N.E.
(Anyone want to hire me as a commercial photographer? 😜)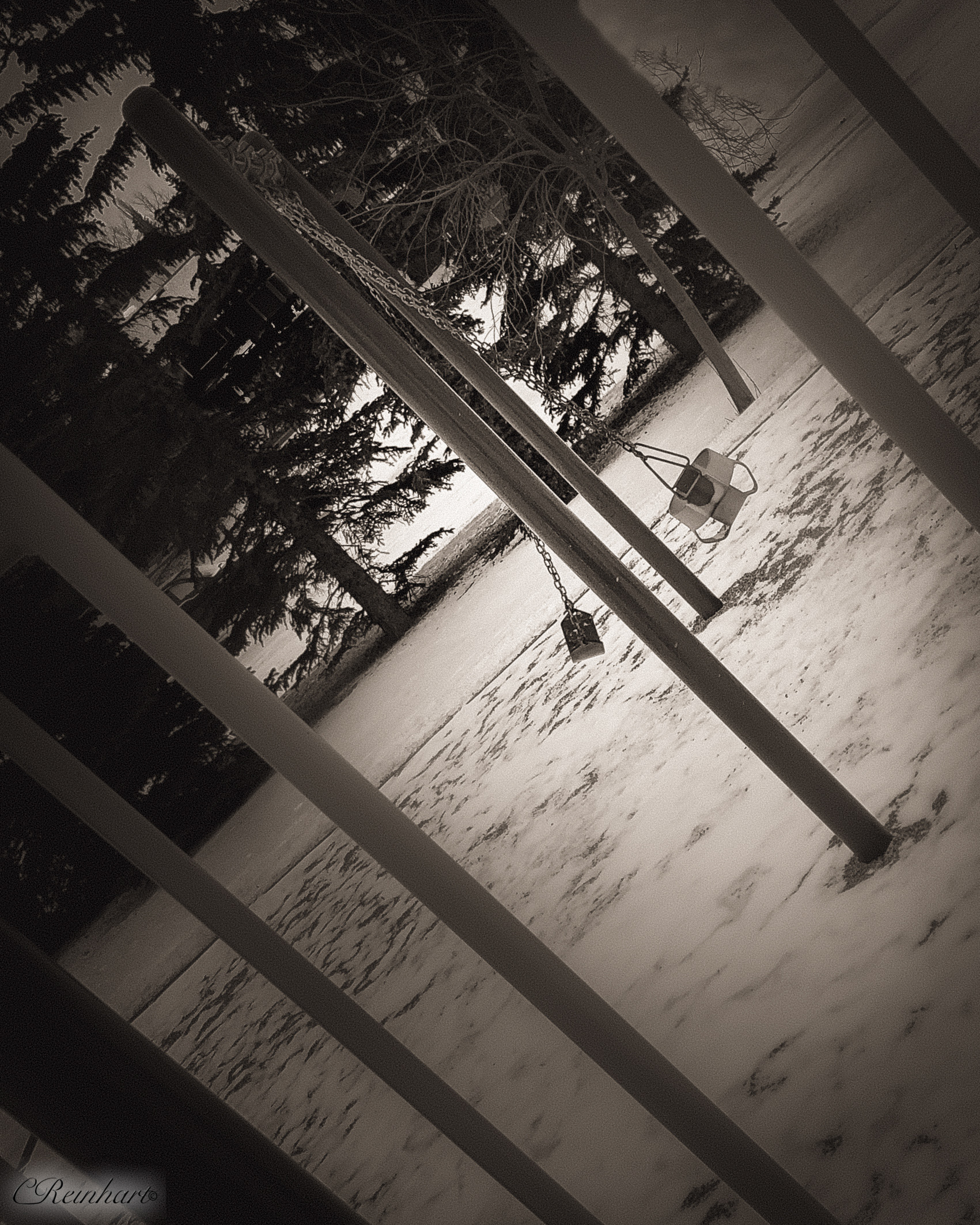 52 Frames Week 5: Neglected
Lonely Playground
The challenge this week was to create an emotional connection with the photo.
As I was driving past the playground near my house I couldn't help but think
how lonely and neglected that poor playground must feel during the winter.
In the summer it has so many visitors including us with our grandchildren.
Now in the long lonely days of winter it sits;
sad, lonely, and definitely neglected.
I wanted to give the viewer a sense of unease and disharmony;
so I set the swings in motion and climbed to the top of the slide for an unusual dutch angle.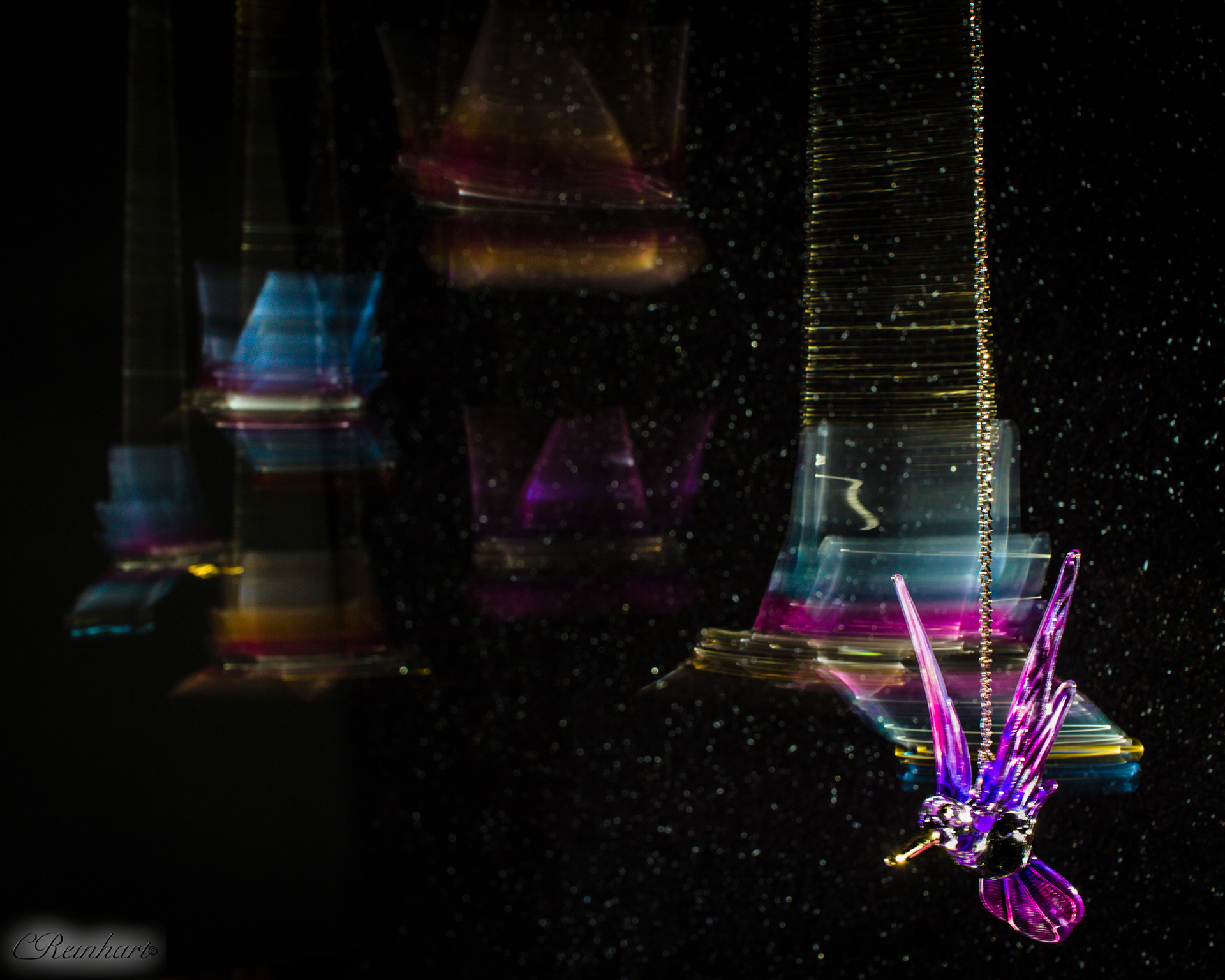 52 Frames Week 4: Something New
Extra Credit: New Photography Technique
My mom has an obsession with buying me glass humming birds; so I have several.
I decided to make the newest one the focus of this project.
In order to accomplish the extra credit portion I needed to look to my newest photo equipment - a pulse.
Using the pulse to capture things at just the right time I put several of my hummingbirds in motion.
As the camera caught the blur of the older birds in motion I made sure the newest bird was perfectly still.
Using my iPhone flash I highlighted the newest bird to make sure he stood out from the others.
New bird, new photo equipment, new technique - 
Mission accomplished!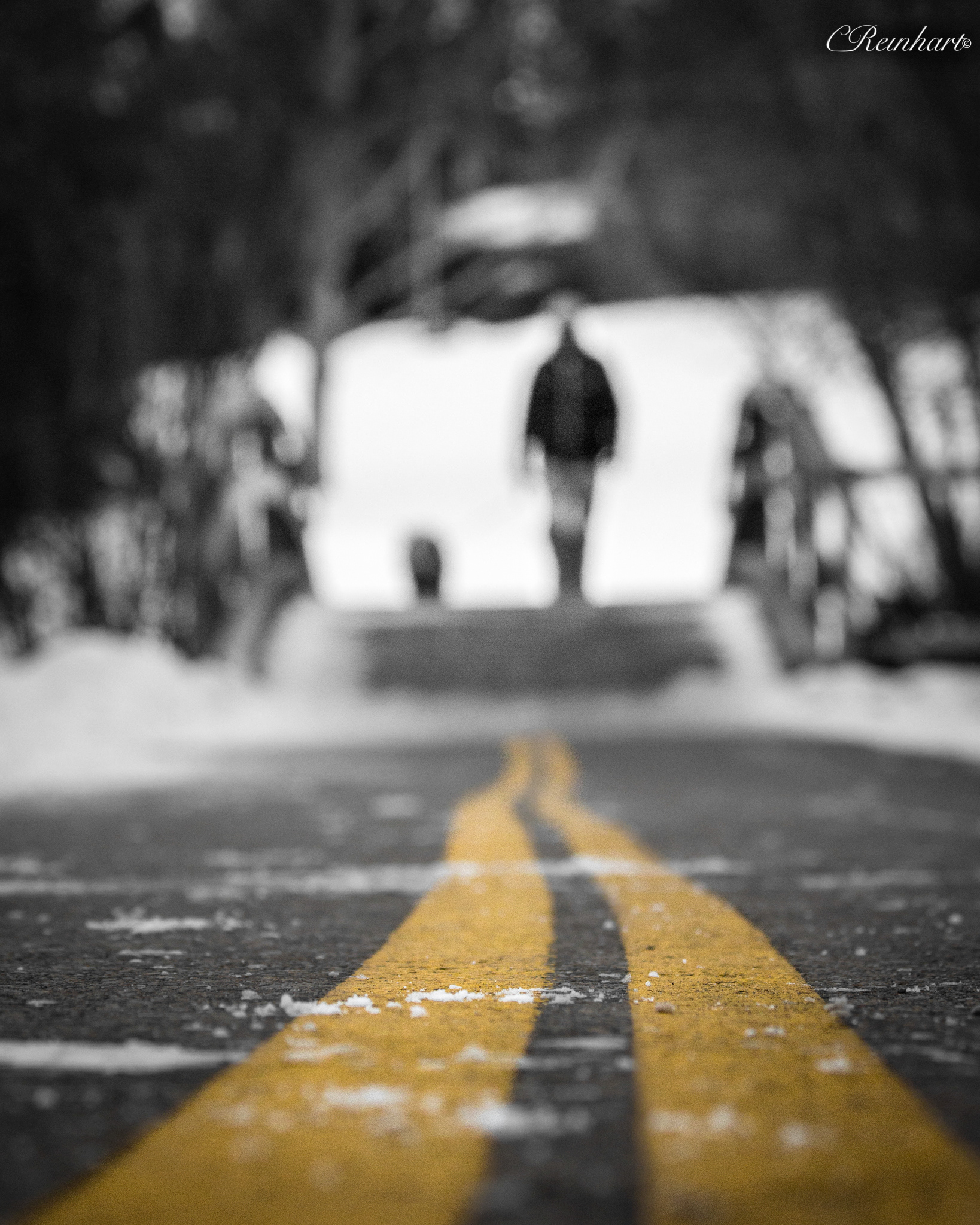 52 Frames Week 3: Leading Lines
Over the bridge and the through the woods...
A winter walk in the park with man's best friend.
Converging lines leading from the front corners of the frame towards the centre
lead the viewers eye to the man and his dog on the bridge in the centre.
The use of colour emphasis' the leading lines for the viewers eyes.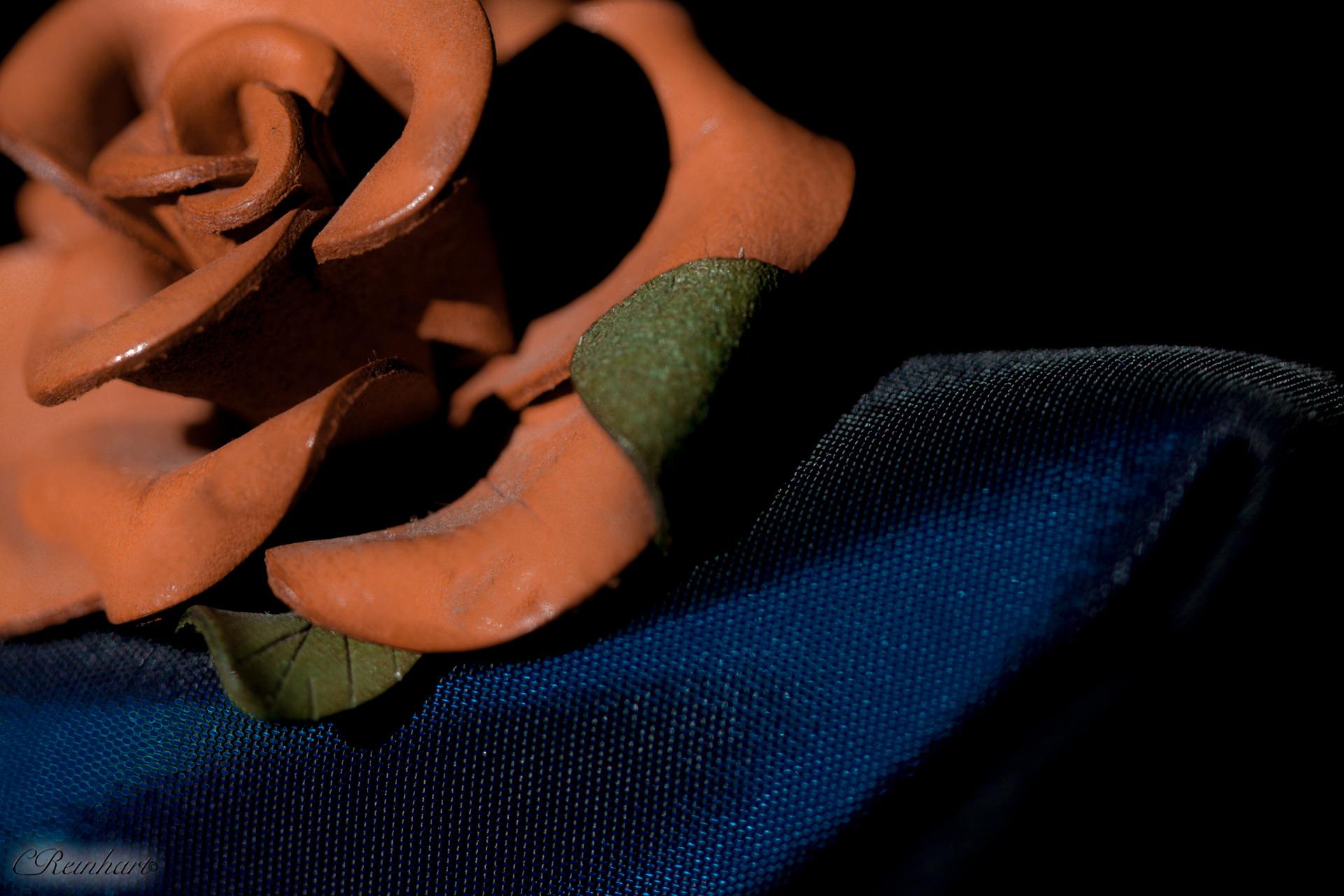 52 Frames Week 2: Blue
Extra Credit: Complementary Colours
"Colour is the place where our brain and the universe meet." - Paul Klee
This year I have chosen to work on two different 52 week projects. Funny enough this week both projects had a similar theme of blue. So I began to shoot a series focusing on blue and orange. Most often when shooting I look for an interesting object to take a picture of.
This week's challenge forced my brain to think a different way.
Instead of looking for yet another object I looked for colours.
This lead me to rediscover this antique broach that had belonged to my grandmother 
and was just sitting in my jewelry box.
I love the feel I got from the photo with the texture of the fabric contrasting the texture of the broach.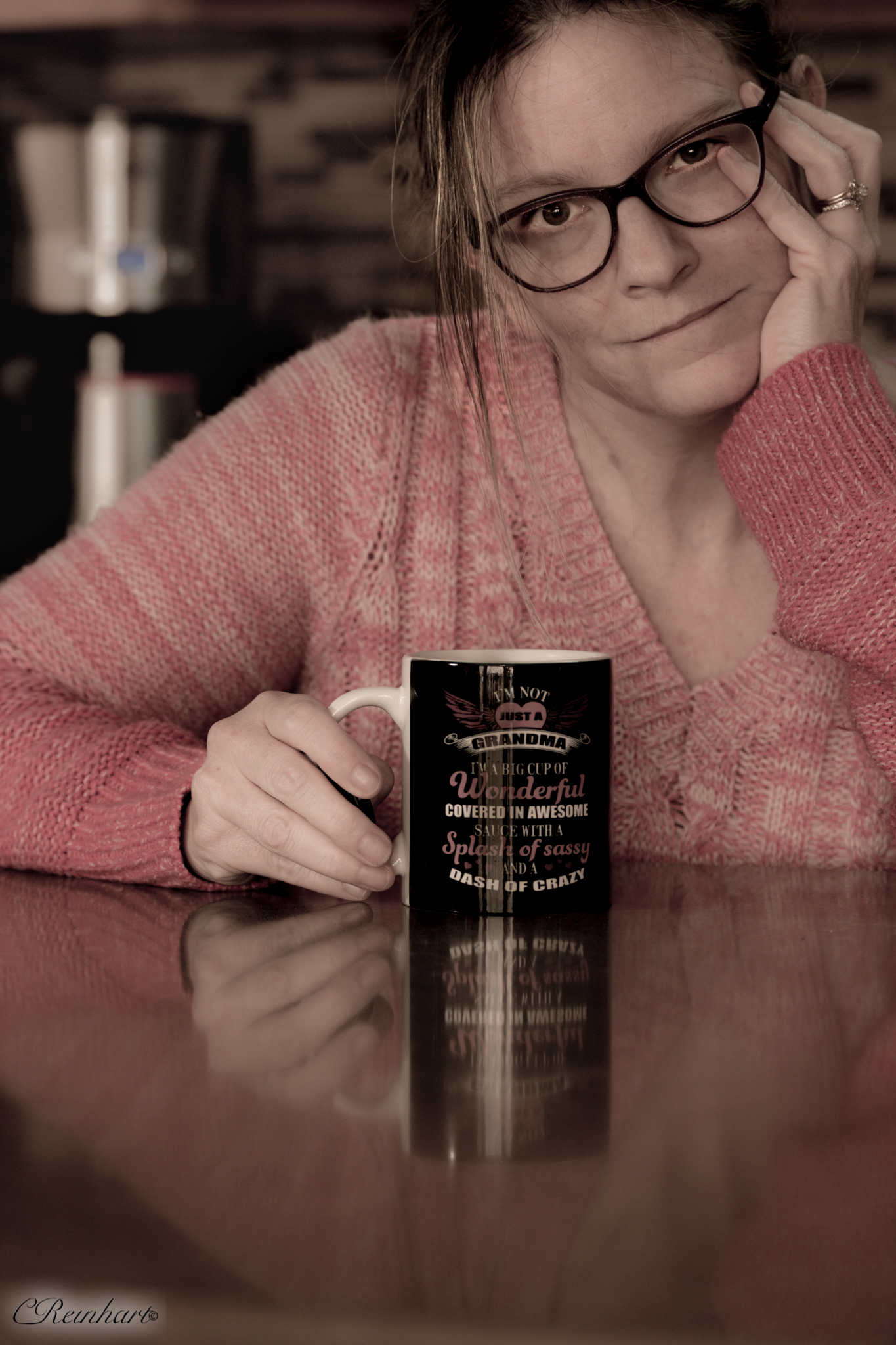 52 Frames Week 1: Self-Portrait
Extra Credit: Imperfection
The extra credit on this assignment was my inspiration.
Imperfection as the goal made shooting so much more fun and freeing.
I have been striving to have my photos tell a story - I think I got it here.